Mediterranean Green Bean Salad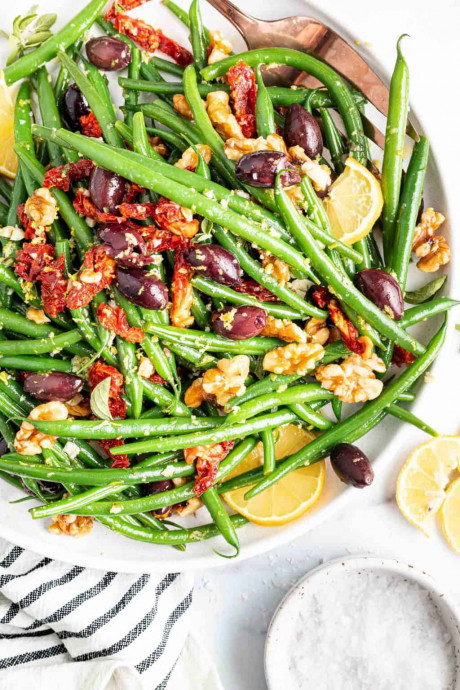 You'll never look at green beans again without thinking of this spectacular Mediterranean style green bean salad. There's nothing ho-hum about this salad! Bean salad, yawn….Big deal, huh? Usually a bunch of cold canned beans with a sour vinegar dressing, it may be called three-bean salad, or five-bean salad or whatever. It's often a cafeteria main-stay, because it keeps forever. Or maybe it lasts forever because nobody eats it. Well, wake up! This salad is a far cry from the usual. With eye-popping flavor, Mediterranean green bean salad is so fantastic, you'll want to eat it every day.
Picture this: Crisp, bright green beans, briny burgundy-colored kalamata olives, flavor-packed sun-dried tomatoes, and crunchy toasted walnuts. Pretty great so far, right? Now imagine that topped with a perfectly balanced, garlicky, lemony vinaigrette, with flecks of fresh oregano. Hungry yet? I know I am. Serve this salad at room temperature or chilled. It's good warm, too. Perfect with grilled salmon or chicken, or a great steak! I served it with classic spaghetti last weekend, along with toasty garlic bread, and it was totally yum.
Ingredients:
Salad
1 lb. thin green beans (Haricot Vert)
½ cup kalamata olives sliced in half if desired
¼ cup sun-dried tomatoes
⅓ cup toasted walnuts
1 tablespoon lemon zest
Dressing
3 tablespoons olive oil
2 cloves garlic, minced
1 tablespoon minced fresh oregano
1 tablespoon red wine vinegar
½ teaspoon salt
¼ teaspoon pepper