Avocado Tacos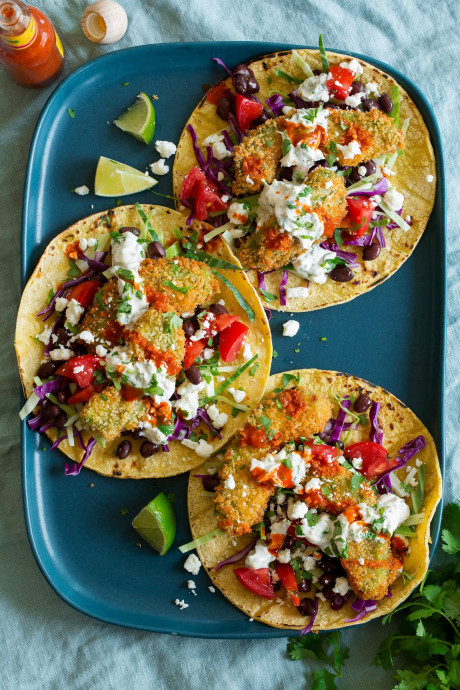 Avocado Fries – They are one of the best things you can make with fresh avocados! It's a simple process of breading avocado slices, then I've shared options to fry or bake them until they're golden brown and perfectly crisp.
Eat them on their own or there's also a recipe included to use them as a tasty taco filling.
You'll love the crispy crunchy exterior and creamy rich interior along with that hint of seasoned flavor found in these avocado fries.
They are such a delicious appetizer, side dish, or with a few additions can be converted into a main dish.
You can enjoy them on their own, serve with a dip, or use them in vegetarian tacos, breakfast tacos, tostadas, or salads.
My favorite way to use them is the taco option. It's a fun take on a classic and has such a nice variety of textures and crave-able flavors!
Some may think a vegetarian taco can be boring but these are anything but! No one will miss the meat in the slightest.
A delicious dish to learn how to make and a restaurant quality recipe you can enjoy at home! It's one of those things you'll soon have on repeat.
Ingredients:
2 large (8.5 oz each) avocados, firm but just ripe
6 Tbsp all-purpose flour
1 tsp ground cumin
1 tsp chili powder
1 tsp salt, then more to taste
1/2 tsp freshly ground black pepper
2 large eggs
1 1/3 cups panko bread crumbs
2 cups vegetable oil, or vegetable oil cooking spray if using baking option
Cilantro Lime Yogurt Sauce
3/4 cup whole milk Greek yogurt
2 1/2 Tbsp finely chopped cilantro
1 Tbsp fresh lime juice
1 tsp minced garlic
1 1/2 tsp honey
1/4 tsp chipotle pepper (optional for spicy)