Chocolate Marshmallow Cookies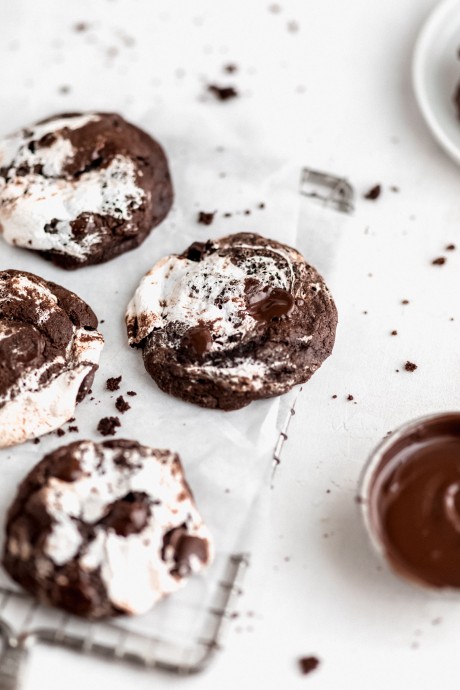 These chewy chocolate marshmallow cookies are rippled with gooey ribbons of marshmallow fluff - the perfect complement to a classic double chocolate cookie. You'll love them because they're super easy, unique, and perfectly chocolatey without being too rich!
Simply make a basic chocolate cookie dough, fold in more chocolate because more chocolate is always the answer, and then swirl with marshmallow fluff. I love a double chocolate cookie just as much as we all do, but sometimes too much chocolate can feel a little heavy. Now don't get me wrong, these chocolate fluff cookies are every bit as indulgent as you think they are, but adding a little fluffy, gooey, vanilla-y fluff into the mix not only makes for a beautiful cookie, but also makes this treat feel a little lighter. Made entirely from pantry staples + fluff (a necessity), these unique cookies take classic ingredients and put a fun spin on them! I think you'll love these chewy chocolate marshmallow cookies. Enjoy every last bite!
Ingredients:
1/2 cup unsalted butter, room temperature
1/3 cup brown sugar
1/3 cup granulated sugar
1 egg, room temperature
1 1/3 cups all-purpose flour
1/2 teaspoon espresso powder
1/3 cup cocoa powder
1/2 teaspoon baking soda
1 teaspoon vanilla
1 teaspoon salt
1 cup chocolate chips
1/2 cup marshmallow fluff