Pumpkin Cinnamon Rolls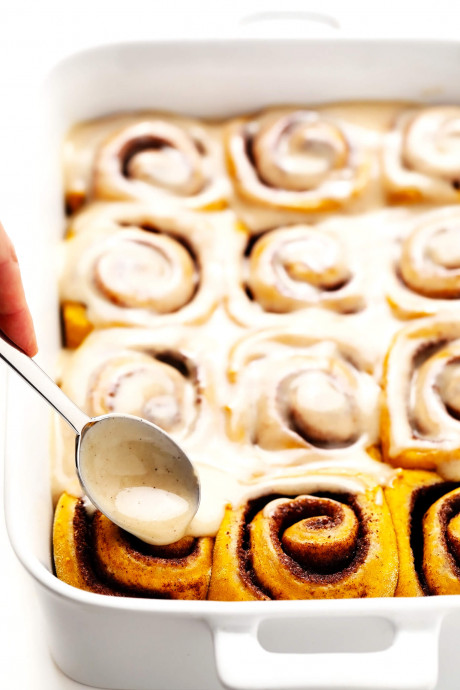 These pumpkin cinnamon rolls are perfectly soft and chewy and topped with a heavenly maple cream cheese frosting. Easy to make and ready to go in just around 1 hour!
This recipe is basically just a simple twist on my favorite 1-hour cinnamon rolls recipe, made with lots of extra pumpkin purée and pumpkin spice added to the dough, plus a generous pour of maple syrup stirred into the cream cheese frosting for some extra fall vibes. The rolls bake up to be perfectly soft and chewy and lightly golden on top. And oh my goodness, they are just outrageously delicious. We shared them with a bunch of friends over the weekend and everyone couldn't stop raving about them (and probably would have polished off a second pan, had I made more, lol).
The great news for all of us is that they are super quick and easy to make as well! The dough only needs for a few short rise times, which allows this entire recipe to come together from start to finish in around an hour. And I've included options below for how to make the dough either with a stand mixer, if you happen to have one, or how to knead the dough completely by hand.
Ingredients:
PUMPKIN CINNAMON ROLLS:
1/2 cup milk
1/4 cup butter
1 envelope (2 1/4 teaspoons) instant ("rapid rise") yeast
3 1/2 cups all-purpose flour
1/4 cup granulated sugar
1 tablespoon pumpkin pie spice
1/2 teaspoon fine sea salt
3/4 cup pumpkin purée
1 egg
CINNAMON FILLING:
1/4 cup butter, softened
1/4 cup granulated sugar
1/4 cup packed brown sugar
1 tablespoon ground cinnamon
1 tablespoon pumpkin pie spice
MAPLE CREAM CHEESE FROSTING:
4 ounces (1/2 cup) cream cheese, softened
3 tablespoons butter, softened
1 teaspoon vanilla extract
1 cup powdered sugar
1/4 cup maple syrup