Quiche Lorraine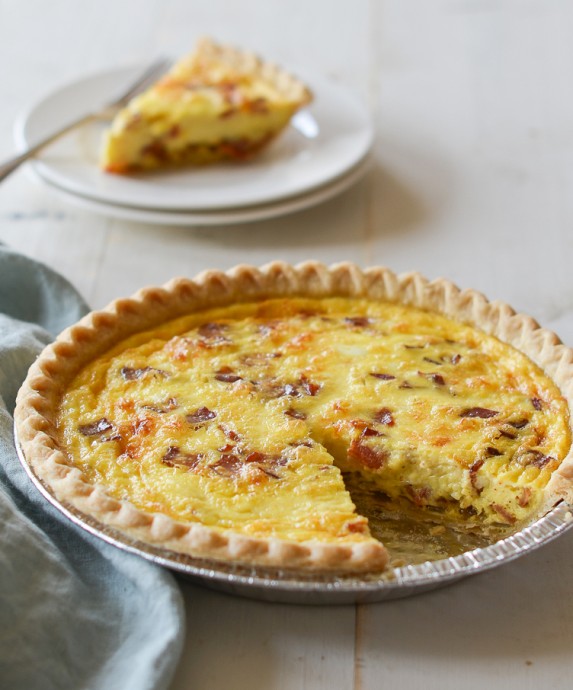 With smoky bacon, nutty Gruyère, and shallots, this classic quiche Lorraine is ideal for brunch, dinner, or anytime in between.
The classic quiche Lorraine with smoky bacon, Gruyère and shallots has always been one of my favorites. You can serve it for brunch, dinner, or anytime in between — and it's especially good paired with a green salad and crisp white wine.
Before we get to the instructions, a few tips on making a good quiche: First, for the richest, silkiest custard, use heavy cream instead of milk or half & half — and always bake your quiche at 325°F, as higher temperatures can cause the eggs to scramble. Second, never feel guilty using a store-bought crust. Making a homemade crust is time-consuming and, with a good-quality frozen crust, you can whip up a quiche with almost no effort at all.
This quiche freezes beautifully for up to three months. After baking and cooling the quiche, wrap it in a layer of plastic wrap and then a layer of aluminum foil. Remove the quiche from the freezer about 24 hours prior to eating. Remove the plastic wrap and reheat it, covered with foil, in a 300°F oven until hot in the center.
Ingredients:
One 9-inch deep-dish frozen pie crust
8 oz thick-cut bacon (about 6 slices), diced
1/2 cup chopped shallots, from 1 large shallot
4 large eggs
1-1/4 cups heavy cream
1/4 teaspoon salt
1/8 teaspoon cayenne pepper
Pinch ground nutmeg
3 oz Gruyère, finely shredded (about 1-1/4 cups)