Homemade Crunchwrap Supreme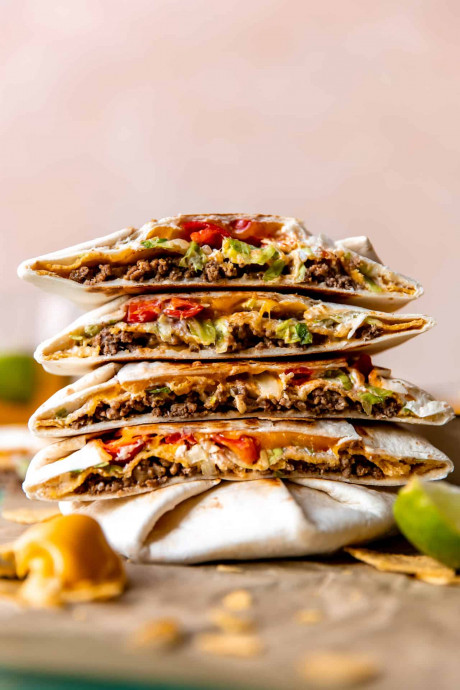 A better version of a fast food classic, these Homemade Crunchwrap Supremes are a huge hit! Seasoned ground beef layered with a spicy nacho cheese, crisp lettuce, juicy tomato, cold sour cream, and a crunchy tostada all wrapped in a soft flour tortilla. Cook these up in a skillet until crispy on the outside and warm and cheesy on the inside. Better than the fast food option, these homemade Crunchwraps are a fun family dinner idea! Control the amount of spice and filling options to make this a meal your whole family will love.
Quick and easy: This recipe comes together in 35 minutes making it a perfect option for a busy weeknight. Homemade is better! Thanks to making this at home we are able to use our own taco seasonings controlling the spice and the salt content.
Ingredients:
GROUND BEEF
1 lb ground beef, (80/20)
½ teaspoon salt
¾ teaspoon ground cumin
¼ teaspoon garlic powder
¼ teaspoon onion powder
1½ teaspoon chili powder
¼ cup water
CRUNCHWRAPS
1½ cup nacho cheese
5 tostada shells
¾ cup sour cream
1 cup lettuce, shredded
½ cup tomatoes, diced
1 cup mild cheddar cheese, shredded
5 flour tortillas, large (10 inch burrito size)