Yankee Pot Roast – Best Comfort Food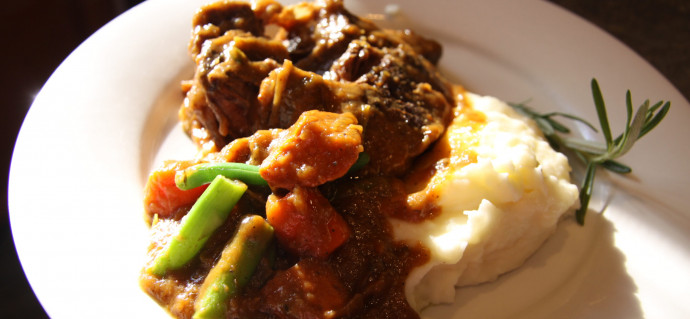 Best designed to be an economical dish. Using great cuts of marbled meat that are meaty and surrounded by in-season vegetables.
This chuck roast recipe is well worth giving it a try, you will not be disappointed at all. A perfect Sunday night family night dinner.
However, do not rush it and my advice to you is to start early in the day cooking it. As a result, it will take a few hours before you can sit down and enjoy the tenderness of the meat with the vegetables.
A fantastic Dutch oven pot roast that is hearty and comforting food. A sure crowd-pleaser and a classic dish that never goes out of style.
Even though this recipe is lengthy, it is quite simple. The chuck beef is perfectly seared and then baked to perfection for hours in a low-temperature oven.
The sweet potatoes and beets are cooked separately. Furthermore, blanching the carrots, celery, asparagus, and green bean and are all added in the last 20 minutes of cooking. Therefore, by doing so, your vegetables will stay nicely intact.
Ingredients:
POT ROAST BASE
4 to 5 pounds beef chuck
1 tablespoon salt
1 tablespoon ground pepper
1 tablespoon granulated garlic
1 tablespoon celery salt
1/2 cup olive oil
6 cups chopped yellow onion
3 cups chopped carrots
4 cups chopped celery
10 thinly sliced garlic cloves
4 cups sodium free beef broth
1/4 cup beef base
1 bay leaf
1 cinnamon stick
2 tablespoons minced fresh thyme
2 teaspoons rosemary, chopped
ROUX
3/4 cup unsalted butter
3/4 cup unbleached all purpose flour
POT ROAST VEGETABLES
1 medium, peeled and cut into large chunks golden beet
1 medium peeled and cut into large chunks sweet potatoes
1 tablespoon olive oil
1 1/2 cup diced into 1 1/2 inch pieces carrots
2 1/2 cup diced into 1 1/2 inch pieces celery
1/2 bunch cut into 1 1/2 inches pieces asparagus
4 ounces trimmed and cut into 1 1/2 inches pieced green beans
2 tablespoons unsalted butter