Brie and Cheddar Apple Beer Soup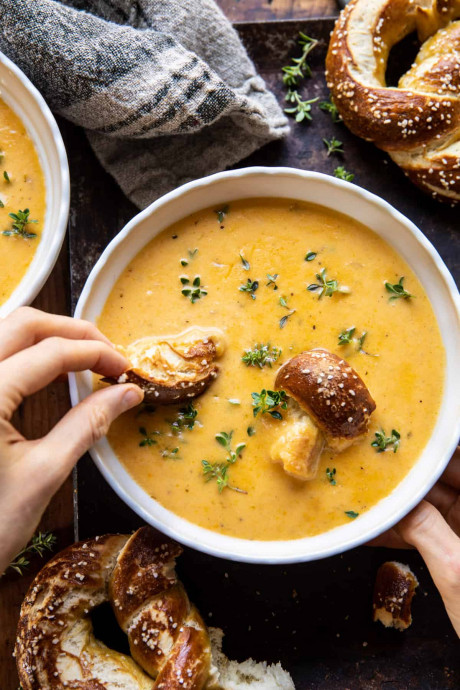 Welcoming the chillier days ahead with this Brie and Cheddar Apple Beer Soup. It's cozy, creamy, extra cheesy, and totally delicious. Cheesy beer soup made simply in one pot with pumpkin beer, sharp cheddar cheese, and creamy brie cheese. A little bit of apple adds a sweetness that pairs perfectly with all the cheese. It's such a delicious autumn twist on a classic beer cheese soup…and so good!
What I love about this recipe is just how easy it is, one pot and totally no fuss.
Simply cook down an onion and add some thyme and sage. Then add flour to thicken the soup up. Now add milk and broth, plus a touch of cider. Then just add your favorite beer (I love to use pumpkin)!
Next, throw in an apple. Yes, I know that may sound weird, but think of it like this, you love apples on a cheese board, right? Of course…well, this is the same thing. The apple balances the sharpness of the cheddar cheese. It is so good, promise!
Ingredients:
3 tablespoons salted butter
2 tablespoons extra virgin olive oil
1 small yellow onion, chopped
2 tablespoons fresh thyme leaves
1 tablespoon chopped fresh sage
1/4 cup all-purpose flour
2 cups whole milk
2 cups low sodium veggie or chicken broth
1 (12 ounce) bottle or can pumpkin beer
1/2 cup apple cider
1 Honeycrisp apple, chopped
2-3 cups shredded sharp cheddar cheese
4 ounces creamy brie, cubed
1/4 teaspoon cayenne, more or less to taste
1 large pinch each kosher salt and black pepper