Strawberry White Chocolate Blondies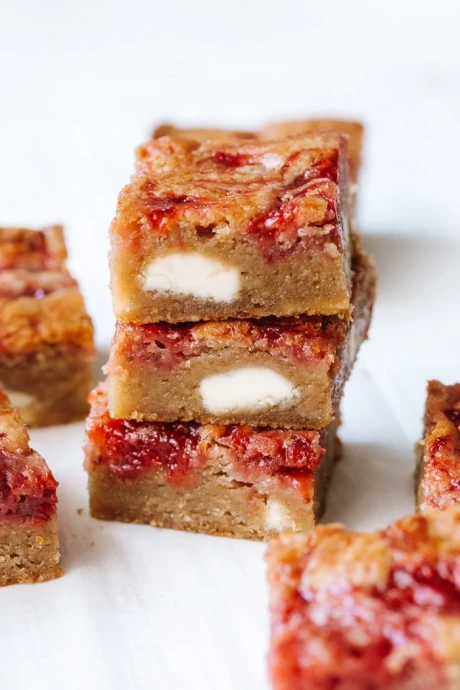 These strawberry white chocolate blondies are a welcome addition to any summer gathering. Easy to make, they're bursting with fresh strawberry jam and creamy white chocolate.
Strawberries and white chocolate are a hit of flavors. The sweet and juicy strawberries pair perfectly with rich, buttery white chocolate. Instead of putting the strawberries directly into the dough, I like to make a simple strawberry jam first. The strawberry jam gets swirled throughout, making beautiful white chocolate blondies that are full of juicy strawberry bits in every bite.
To keep things easy for these strawberry blondies, I like to make a simple strawberry jam that takes only 15 minutes to cook, instead of an hour like a classic long cooked jam. You can even use store-bought jam instead, but I've tried both options and this one, with the sweet fresh strawberries, is my favorite. The strawberry cookie bars taste like fresh strawberries and sweet summer.
Ingredients:
Quick Strawberry Jam
200 g strawberries (about 10 medium), hulled and cut into cubes
3 tablespoons (35g) granulated sugar
2 tablespoons water
Blondies
1 1/2 cups (200g) all-purpose flour
1 teaspoon baking powder
1/4 teaspoon salt
1 1/2 sticks (170g) unsalted butter, melted and slightly cooled
1 1/4 cups (250g) light brown sugar
2 large eggs
2 teaspoons vanilla extract
100 g white chocolate chips or chunks (cut from chocolate bar)