Nutella Stuffed Cookies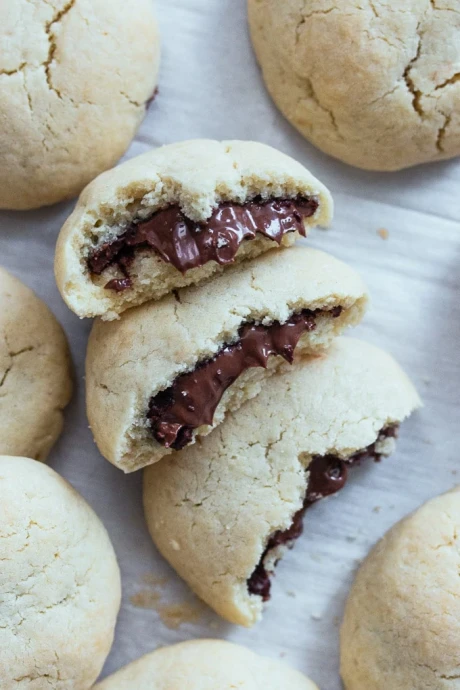 Thick and soft cookies get stuffed with a creamy Nutella center. These Nutella Stuffed Cookies are an indulgent treat and will soon be your new favorite cookie.
Everything should be stuffed with Nutella, or at least that's what I keep saying anytime I experiment with a new recipe. I've stuffed Nutella into banana muffins and brownies, so it was only a matter of time before I made Nutella cookies.
These Nutella stuffed cookies start with my favorite soft sugar cookie recipe as a base to coat the Nutella filling. From the outside they look like an innocent butter cookie, but once you take a bite you're in for a sweet surprise!These cookies can be kept in an airtight container for up to 3 days, but in my house they rarely make it past a couple hours. We're a family of sweet tooths, so these Nutella stuffed cookies are impossible to resist. Biting into a surprise center of Nutella is pure delight! If you love my sugar cookies then definitely try these out for a delicious chocolatey twist.
Ingredients:
1 cup (320g) Nutella
2 cups (280g) all-purpose flour
1/2 teaspoon baking soda
1/2 teaspoon salt
3/4 cup (170g) unsalted butter, softened to room temperature
1/2 cup (100g) granulated sugar
2/3 cup (80g) powdered sugar
1 large egg
1 teaspoon vanilla extract