Salted Caramel Apple Snickers Cake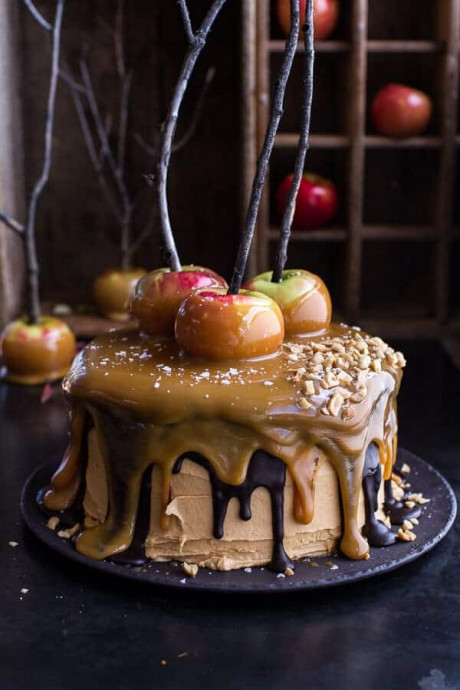 I kind of have a lot to say about this cake (how could I not!). Please bear with me as I ramble (and ramble) and try to convince you that you need to make this cake.
Here's the deal, the cake part is simple. It's just a spiced apple cake, but made chocolate. I know that is not really typical, but who cares, it's good. The cinnamon is delicious with the chocolate and the sweet flavors of the apples.
Oh, and since this cake is full of applesauce that means it's healthy, right??
Ok, ok, fine, it's not even close to being healthy, but hey I had to try. And hey, it's a celebration cake so the calories don't count anyways… reason number 101 as to why I love the months of October, November and December. These are the months when food can be whatever we want it to be. Without a doubt.
Ingredients:
2 1/4 cup all-purpose flour
2 1/4 cups granulated sugar
1 1/2 cups unsweetened cocoa powder
2 1/4 teaspoons baking soda
2 1/4 teaspoons baking powder
1 1/2 teaspoon salt
1 teaspoon cinnamon
1/2 teaspoon allspice
3 eggs at room temperature
3/4 cup canola oil
1 1/2 cups unsweetened apple sauce
1 1/2 tablespoon vanilla extract
1 cup + 2 tablespoons strong brewed coffee hot (or warm apple cider)
Salted Caramel
2 cups heavy cream
2 cups sugar
1 cup honey or corn syrup
1 cup apple cider
1/2 cup (1 stick) salted butter
1 tablespoon bourbon
2 teaspoons vanilla extract
1/2 teaspoon kosher salt + flakey salt for sprinkling
3 your favorite SMALL apples * I used granny smith and honeycrisp
6 twigs or wooden sticks
Snickers Frosting
1 cup unsalted butter softened
4 ounces cream cheese softened
2 cups powdered sugar
1/2 cup creamy peanut butter not the oily kind
1/3 cup salted caramel ingredients above
2 teaspoons vanilla extract
1/2 cup salted peanuts chopped + more for garnish
Chocolate Coating
8 ounces bittersweet chocolate chopped
1/2 cup heavy cream