Salmon With Steamed Bok Choy And Almonds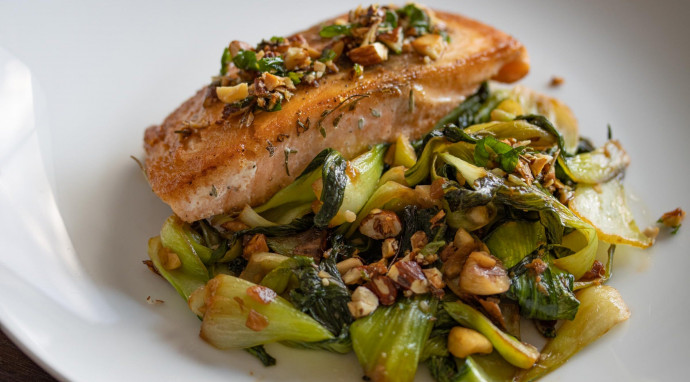 Bok choy has always been one of my favorite Asian vegetables. I enjoy the flavor and how easy it is to cook with it. During my last shopping expedition, I ran across a Vietnamese grocery store where I found the Shanghai bok choy.
Our supermarkets only carry the larger one, so founding the little one I was in cooking heaven. The Shanghai bok choy is squatter than the common one and has pale green leaves. The Asian supermarket sells them in a large bag as they are relatively small to bundle up. If you live near an Asian supermarket, or your store has some, I recommend you buy some for your next meal.
I am also a fish lover, therefore salmon was on my list for dinner.
This recipe came along as I was playing in the kitchen. The fillets of salmon are the easiest and so versatile to cook as well as the bok choy is.
I called steamed rather than saute bok choy as the bok choy releases lots of natural moisture, adding a couple of tablespoons of water it rather created extra steam to the cooking process. Why basil? I love crisp basil and it has the same mustardy flavor of the bok choy when cooked. Of course, this is completely optional, I just happen to have some extra on hand.
Ingredients:
4 6-ounces skinless salmon fillets

1 large bunch of small bok choy such as Shanghai bok choy

1 tablespoon grated fresh ginger

2 tablespoons dark soy sauce

2 tablespoons hoisin sauce

finely sliced fresh basil leaves (optional)