Crispy Honey Prawns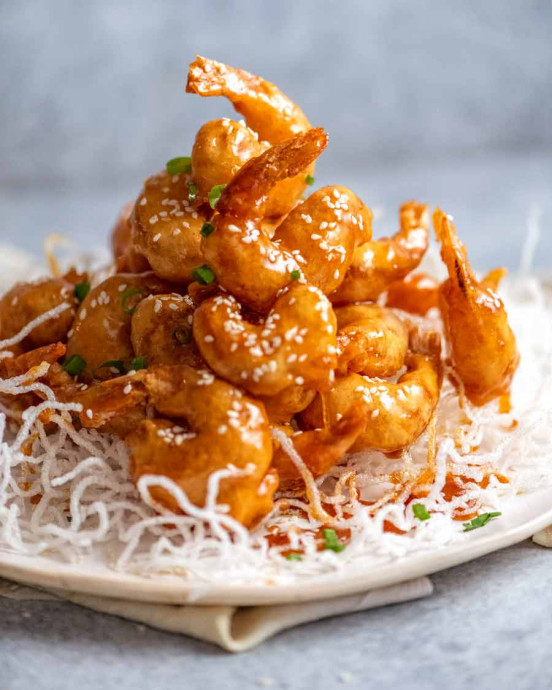 This is a recipe for Honey Prawns, old-school Chinese restaurant-style. The batter coating is a proven secret weapon I use for Honey Chicken that stays crispy for hours, even after tossing with the honey sauce!
The trick? Ice cold soda water for one. Also, cornflour plus flour. Finally a double-fry, fast becoming the worst-kept cooking secret to less greasy fried foods that stay crispy for hours!
Honey Prawns are a much-loved favourite at suburban Chinese restaurants and takeaway joints across Australia. Plump, snappy prawns are battered and fried until crisp, then tossed in a sweet and sticky honey sauce – those words alone will have anybody drooling!
As irresistible as they are, for me Honey Prawns at most restaurants suffer one glaring defect: they don't stay crispy for long!
Ingredients:
PRAWNS
300g/ 10oz prawns/shrimp , peeled with tail on (600g/1.2lb whole unpeeled) (Note 1)
1/2 tsp kosher/cooking salt (halve for table salt)
DREDGING:
1/2 cup cornflour/cornstarch
ULTRA-CRISPY FRY BATTER:
9 tbsp cornflour/cornstarch (Note 2)
6 tbsp flour , plain/all-purpose
1/2 tsp baking powder (NOT baking soda)
1/2 tsp salt , kosher/cooking (halve for table salt)
2/3 cup + 1 tbsp COLD soda water, club soda or seltzer water (NOT sparkling mineral water, Note 3)
OIL, FOR FRYING:
3 – 4 cups vegetable or canola oil (~4cm / 1.5" depth in a pot)
HONEY SAUCE (NOTE 8 ON SWEETNESS):
1/3 cup (100g) honey
1.5 tbsp (25g) glucose OR corn syrup (light) (Note 4)
1 tbsp light soy sauce (or all-purpose)
2 tsp Chinese cooking wine (or mirin)
GARNISH / SERVING:
25g / 2 oz Vermicelli rice noodles (optional) , a wad of it (not mung bean noodles, it must be rice noodles)
Sesame seeds, finely sliced green onions