Sauteed Pork Tenderloin With Prunes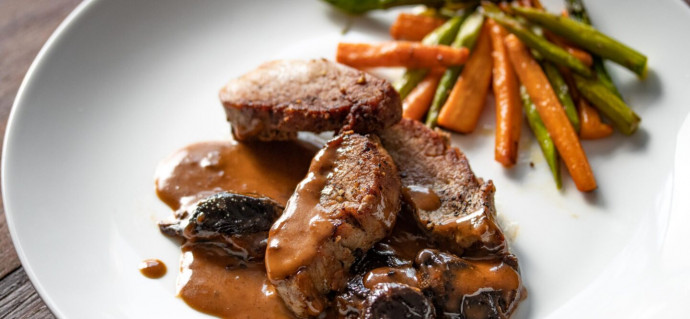 Sauteed Pork tenderloin with Prunes. A classic French recipe from the Loire region, to your fingertips with my spin. A savory fall dish that takes little to no time to prepare. I enjoy pork tenderloin as they are the easiest cut of pork to prepare and take less time to cook. As a matter of fact, you may want to keep an eye on them while cooking so they will not dry out.
I had no french demi-sec or a sweeter French wine on hand, therefore used the Tawny Port that will give it the body of dry and a bit of the sweetness need it. The Port is excellent for deglazing, therefore being my personal choice.
I would suggest marinating the prunes a couple of hours ahead of time, of course, time permitting. However, you can even start the marinate the night before if you wish. Although a quick tip that I have learned is to warm up the port wine add the prunes and let them rest off the heat source. A good 20 minutes will suffice, or while you are preparing the sauteed pork tenderloins.
Ingredients:
20 pitted prunes
1 cup Tawny Port
2 pounds pork tenderloins
salt and pepper
2 tablespoons unsalted butter
½ cup chicken stock
½ cup heavy cream
2 teaspoons white wine vinegar