The Best Apple Sausage Stuffed Acorn Squash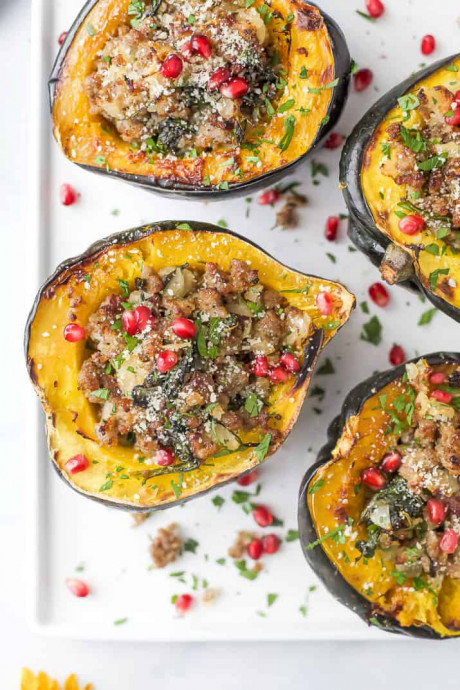 This Apple Sausage Stuffed Acorn Squash is an easy & comforting dish that screams Fall. It's the perfect Thanksgiving side dish! Tender roasted acorn squash filled with a flavorful apple and sausage filling then topped with juicy pomegranate.
For todays recipe I elevated acorn squash from the delicious sidekick to the headliner main dish, and trust me you are going to love every single bite of this Stuffed Acorn Squash!
Everything about this Stuffed Acorn Squash is cozy and comforting. The acorn squash itself when roasted becomes sweet and becomes the perfect compliment to the filling to really balance the dish out. The Apple Sausage filling has tart granny smith apples that are sautéed with onions, slightly spicy sausage and spinach then finished with fresh herbs and salty parmesan cheese to create this BOMB of a bite! I decided to finish this squash with pomegranate arils for a fun pop of color but also add a juicy tartness.
This dish would be great as a main course or a side served during the holidays. Either way it's a MUST make! You will absolutely love all the flavors.
Ingredients:
3 acorn squash, halved and seeded
Apple Sausage Filling:
1 lb. all natural sausage
1 cup diced yellow onion
1 granny smith apple, peeled and diced
2 1/2 cups baby spinach
1 teaspoon fresh thyme
1/4 cup grated parmesan
garnish: chopped parsley and pomegranate arils