Italian Sausage Stuffed Mushrooms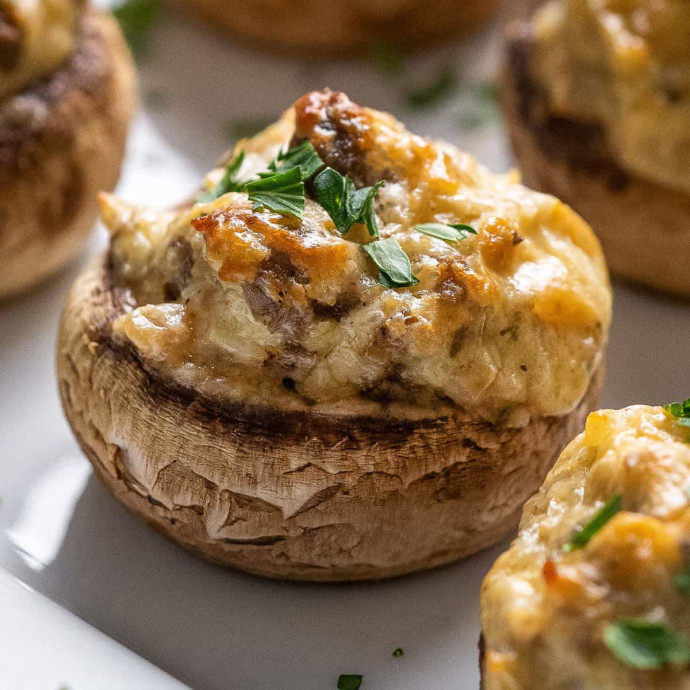 These Italian Sausage Stuffed Mushrooms are the ultimate party appetizer! Stuffed with a creamy sausage filling, then baked until deliciously golden, every bite is a flavor explosion. They can even be assembled and prepped ahead of time!
I love mushrooms… ummm, like a LOT. One of my favorite ways to eat a mushroom, is stuffed!
Whenever our family goes out to dinner, we always want to get the stuffed mushrooms on the appetizer menu. The problem is, you get about 5 mushrooms per order. Well I don't know about you, but I could eat more than 5 by myself, let alone share them!
So this recipe hits all those amazing flavor notes of a restaurant-style stuffed mushroom, but you get a larger amount to share (or not – no judgement here!).
When I first made these, my husband hadn't even finished his first mushroom before he was reaching for another one and proclaiming that I needed to make these again. Needless to say, they are definitely our family's favorite!
These mushrooms are so creamy, so savory, so full of flavor… I know you won't be able to just eat one!
Ingredients:
24 oz white button mushrooms
1/3 – 1/2 lb ground spicy Italian sausage
1/2 large yellow onion minced
6 cloves garlic minced
1/3 cup dry white wine such as a chardonnay
1/2 tsp kosher salt
1/2 tsp dried thyme
1/4 tsp black pepper
8 oz cream cheese
1 egg yolk
3/4 cup Parmesan cheese freshly grated is best
minced fresh parsley for garnish