Roasted Tomato Cheddar Tart with Ranch Seasoning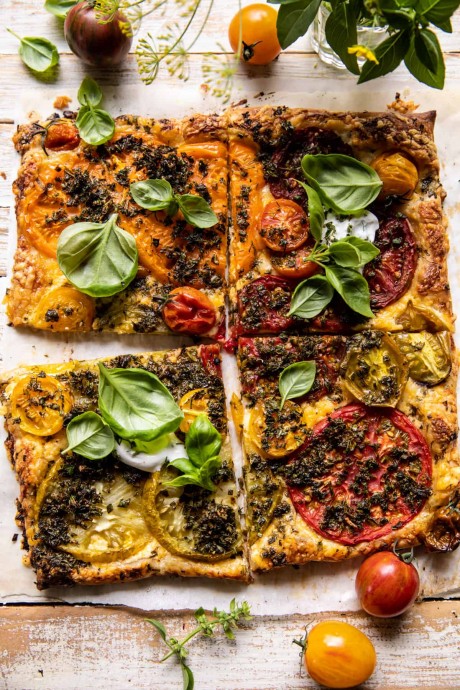 This Roasted Tomato Cheddar Tart with Ranch Seasoning is the best way to use the tomatoes. Flaky puff pastry dough topped with melty cheddar cheese, heirloom tomatoes, and fresh homemade ranch seasoning mix. So simple and easy, and out of this world good. The key to this tomato tart is the ranch seasoning blend. It bakes atop the tomatoes and becomes crisp, infusing the entire tart with delicious "ranch" flavor. As soon as the tart comes out of the oven, top it with fresh basil, a dollop of sour cream or yogurt…slice, eat, and enjoy. Trust me, every last bite of this tart is delicious and will leave you wanting more. It's the perfect mix of summer flavors and everyone's favorite ranch dressing.
This tart features roasted tomatoes. And while they might not be as beautiful as the raw tomatoes, they're a whole new level of delicious. The crust is flaky, the cheese is crisp around the edges (so delicious), but soft and melty in the center. And the tomatoes? They're roasted and seasoned perfectly with all the flavors of really good ranch. It's the perfect combination: a fancy, classy tomato tart with not so fancy, not so classy, ranch seasoning.
This is the perfect recipe to make at the beginning of the week, as any leftovers can be used for packed lunches. It's ideal for picnics too, if the sun makes an early appearance.
Ingredients:
3-4 heirloom tomatoes, sliced
salt and black pepper
1 sheet frozen puff pastry, thawed
2 tablespoons crème fraîche, plain Greek yogurt, or sour cream
1 1/2 cups shredded sharp cheddar cheese
extra virgin olive oil for drizzling
fresh basil, for serving
1/4 cup chopped fresh parsley (or 1 tablespoon dried)
1/4 cup chopped fresh chives (or 1 tablespoon dried)
1/4 cup chopped fresh dill (or 1 tablespoon dried)
2 cloves garlic, grated (or 1 teaspoon garlic powder)
1/2 teaspoon cayenne pepper using more or less to taste
1/2 teaspoon each kosher salt and black pepper