Apple Pie Bars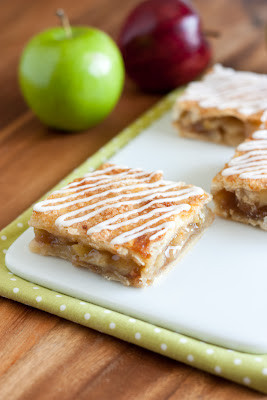 Any day is a good day for apple pie, right? To me apple pie isn't just a Fall and Thanksgiving dessert, I want apple pie all through out the year. Why have such a good thing only once a year? Also, why stick with an ordinary pie? I love turning things into bar form. These are everything you get in an apple pie but in perfect, hand hold-able, individual bars.
Just like a regular apple pie these do require a bit a work but I'm telling you it is so worth it! You can serve these warm with vanilla ice cream or allow them to cool almost entirely and drizzle them with the creamy vanilla glaze (it will remind you of a toaster struedle only a thousand times better. Got a craving for apple pie?
You're going to want to try these delicious Apple Pie Bars! Sweet, deliciously spiced, gooey apple filling is surrounded by a flavorful, flaky buttermilk crust then it's finished with a delectable, silky vanilla glaze, do things get much better? Enjoy!
Ingredients:
2 cups all-purpose flour
1/2 tsp salt
12 Tbsp salted butter , cold and diced into cubes
1/4 cup +2 Tbsp buttermilk , chilled
1 egg yolk
2 1/4 lbs granny smith apples (about 6 medium apples)
2 1/2 Tbsp orange juice
1 tsp vanilla extract
1/2 cup all-purpose flour
1/2 cup granulated sugar
1/3 cup packed light-brown sugar
1 1/4 tsp cinnamon
1/4 tsp nutmeg
1 egg white
1 1/2 Tbsp Raw Turbinado sugar
1/4 tsp cinnamon
Vanilla Glaze
1 cup powdered sugar
2 Tbsp half and half (milk could be substituted)
1/2 tsp vanilla extract