Easy Skillet Lasagna – One Pan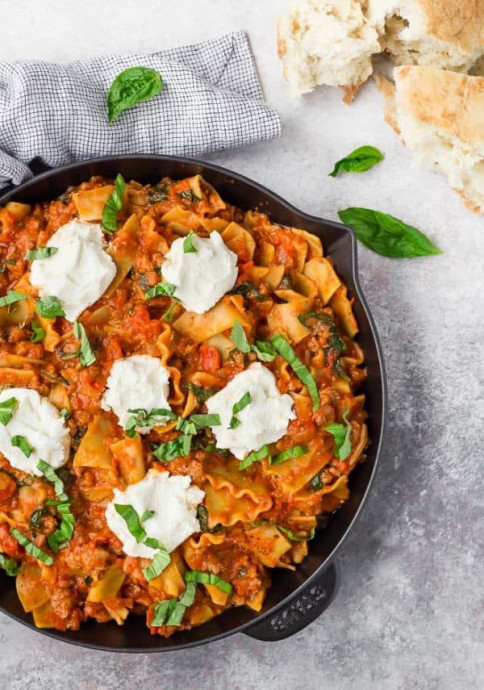 Love lasagna but hate fussing with layering everything up? This easy skillet lasagna is going to make your life way easier. It's just as delicious, but with a fraction of the work.
I absolutely love lasagna (I mean, who doesn't?!), but I really do not like making it. Really, whose idea was it to try spreading a ricotta cheese mixture onto a messy sauce mixture? It just doesn't work, and the type-A in me gets so frustrated when the layers start to mix together. The good thing about this skillet lasagna is that it's meant to be mixed together. No layers here, but all the flavor of lasagna that you love!
This is a classic one pan pasta that cooks all in…ONE PAN. I'm really beginning to believe that there is no other way to prepare pasta. Why would you! The pasta cooks right in the sauce, making it thick and hearty, and adding so much flavor to the pasta.
I finish this recipe by stirring in mozzarella. The cheese helps thicken the sauce and makes it ultra-creamy. Plus, what's lasagna without mozzarella? The ricotta is spooned on the top and the finished product is sprinkled with fresh basil. It's been a hit with every single person who has tried it! I know you're going to love it, too.
Ingredients:
1 package (19.5 oz) Italian turkey sausage links, removed from casings
1 medium yellow onion, chopped (about 1 cup)
1 large clove garlic, minced (about 1 teaspoon)
2 jars (25 oz each) pasta sauce
1 can (14.5 oz) petite diced tomatoes
¾ teaspoon dried basil
¾ pound lasagna noodles, broken into pieces
4 cups (loosely packed) baby spinach leaves
1 cup mozzarella cheese
1 cup ricotta cheese
Fresh basil, for garnish, if desired