Sautéed Brussels Sprouts in Carbonara Sauce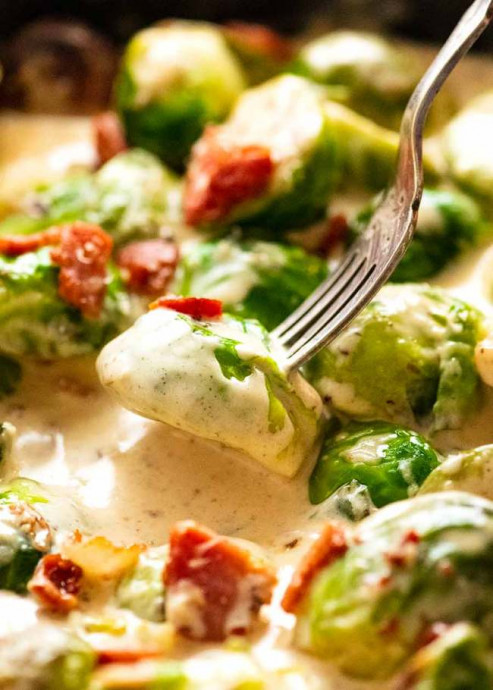 Bacon fat sautéed brussels sprouts are semi-braised in a carbonara-esque creamy sauce, and then finished with a sprinkle of crispy bacon. You'll love how the brussels sprouts act like a sponge so when you bite into them, and all that creamy sauce squirts into your mouth! This is a handy brussels sprouts side dish that's made entirely on the stove, freeing up the oven for centrepiece roasts!
This is a brussels sprouts version of a green beans dish that I shared a few months ago that's proven very popular with readers. It's like an easier, quicker version of Brussels Sprouts cooked gratin-style. Gratins, like say Broccoli Gratin, are made with a béchamel sauce that's poured over pre-cooked vegetables (typically steamed or braised) and finally baked in a casserole in the oven. By contrast, this dish all happens in one skillet or pan. It's also cooked entirely on the stove which makes it a super-handy vegetable side for big feasts where oven space is at a premium. And, we may as well face it: Brussels sprouts divide people and not everyone is into them. But dress them up in a creamy sauce – AND bacon – it certainly ups the appeal to the detractors out there!
Ingredients:
150g/ 5oz bacon , chopped (use streaky, not lean)
750g/1 1/2 lb brussels sprouts
1/4 tsp salt
1/2 tsp black pepper
2 garlic cloves , finely minced
1/2 cup chicken or vegetable stock / broth , low sodium
1 cup cream , heavy/thickened (Note 3)
1/2 cup parmesan , finely grated (best to grate your own)
1/2 cup shredded mozzarella or any other melting cheese