Chicken and Avocado Burritos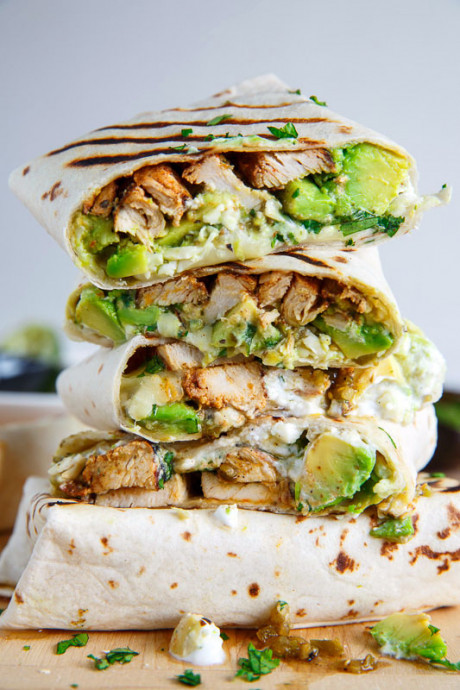 Burritos stuffed with juicy chicken, cool and creamy avocado, oozy gooey melted cheese, spicy salsa verde and sour cream!
Today I have some tasty chicken and avocado burritos for you! They are so easy to make, you simply wrap the chicken, avocado, cheese, salsa verde, sour cream and cilantro up in a tortilla, grill it and enjoy! Just make sure to put the cheese on the top or bottom of the burrito so that is melts and gets all nice and ooey and gooey when it's grilled. Feel free to serve these burritos with extra salsa and sour cream for dipping! These burritos don't take long to make, they are nice and portable, filling and most importantly, packed full of flavor!
Ingredients:
4 burrito sized tortillas (corn tortillas for gluten-free), warmed
1 pound cooked chicken, sliced or shredded
1 large avocado, diced
1 cup Monterey Jack cheese, shredded
1/4 cup salsa verde
1/4 cup sour cream or greek yogurt
2 tablespoons cilantro, chopped