Vegetarian Swedish Meatballs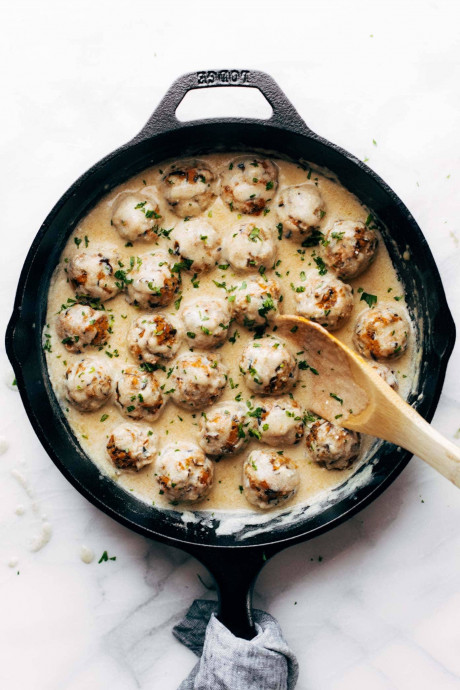 Vegetarian Swedish Meatballs are FOR REAL! Meatballs made with wild rice and mushrooms, served with savory brown gravy. Easy and yummy! Vegetarian Swedish Meatballs are here and they are so savory, luscious, meatless, and scary-delicious.
Swedish meatballs, as described by Wiki, are just meatballs with a brown gravy. This is not news to me. We live in Minnesota. I grew up eating Swedish meatballs. Bjork love-love-loves them (yes, his name is Bjork) and he hardcore campaigns for a gravy-loaded meatball splurge every time we're at IKEA. So to that Wiki description, I say: yes.
I also say: define meatballs, exactly. Because I think I might have just made meatballs … with wild rice and mushrooms… without meat. I rolled them and baked them and put them in brown gravy. They are extra-yummy. Does that count? Am I in?
Okay, here's what we have going on in those little non-traditional veg balls of joy: wild rice, mushrooms, breadcrumbs, yogurt or mayo to keep em from drying out, eggs to hold it all together. Easy!
Ingredients:
Vegetarian Meatballs:
2 cups cooked wild rice
1 heaping cup finely chopped mushrooms
1/2 cup plain Greek yogurt
2 eggs
3/4 cup breadcrumbs
1 teaspoon smoked paprika
1 teaspoon garlic powder
1/2 teaspoon salt
olive oil (optional)
For the Gravy:
3 tablespoons salted butter
1/2 teaspoon onion powder and/or garlic powder
3 tablespoons flour
1 1/2 cups vegetable broth
1/2 cup sour cream
salt and black pepper to taste