Shrimp In Red Sauce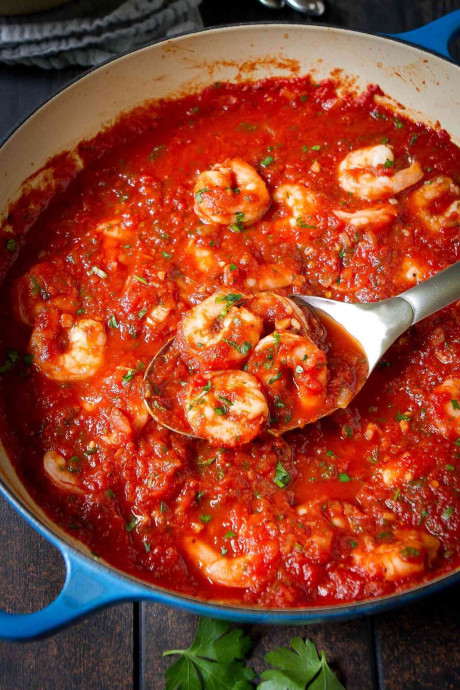 Easy 30-minute meal! This shrimp in red sauce is not only quick to make, but is infused with the flavors of a homemade tomato sauce and is fantastic served with pasta, rice or zucchini noodles.
This shrimp in red sauce recipe is made for weeknights, when easy 30-minute meals reign supreme. A good solid marinara sauce makes everything better and seared shrimp are no exception. If you prefer a chunkier sauce, use a combination of crushed tomatoes and canned petite diced tomatoes. Or start with whole canned tomatoes (real San Marzano ones if you can find them) and break them up with a wooden spoon as the sauce simmers. This recipe really couldn't be any easier. There are two main parts: 1) Cooking the shrimp and 2) Making the sauce.
Start by tossing the peeled shrimp with a little olive oil, salt and pepper.
The obvious choice is to toss the shrimp and tomato sauce with pasta. Always delicious! Here are some other options:
Serve over rice
Serve over quinoa
Stir in cauliflower rice or use it as a base.
Toss with lightly sautéed or raw zucchini noodles
Ingredients:
1 pound peeled large shrimp deveined
4 teaspoons olive oil divided
3/4 teaspoon kosher salt divided
1/2 teaspoon ground pepper divided
1/2 small yellow onion finely diced
4 garlic cloves minced
1 teaspoon dried oregano
1/8 to 1/4 teaspoon red pepper flakes
1 (28 oz.) can good-quality crushed tomatoes
2 tablespoons minced flat-leaf parsley