Florentine Cookies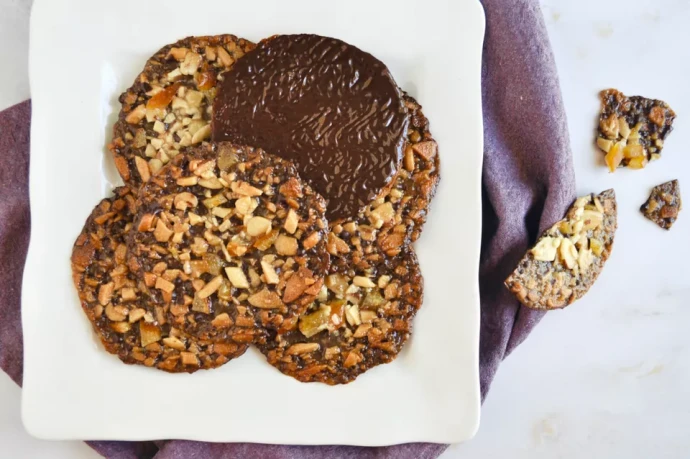 Florentines are a classic holiday cookie, although they are delicious year-round. They're thin and crisp, with a nutty, toffee-like flavor spiked with candied orange peel and coated in chocolate. What's not to like? Florentines are impressive to look at, but they're easier to make than they seem.
While the name "Florentine" may lead you to believe the cookie is Italian, its origins are believed to be French. The ingredients are more typically French, and there are other French dishes named after the Florentine queen, such as eggs Florentine. Wherever they're from, Florentines are beloved throughout the world, especially during the holidays.
For the best results, use silicone mats to line your baking sheets. They keep the thin cookies from spreading too fast, making them a nicer shape and less likely to burn. Speaking of burning, keep a close eye on these cookies and don't forget to rotate the pans. They go from an attractive golden brown to burnt in the blink of an eye. Lastly, avoid making Florentines on a humid day. You won't get the crisp texture you're looking for.
Ingredients:
1 cup sliced almonds
4 tablespoons unsalted butter
1/2 cup sugar
3 tablespoons honey
1 tablespoon heavy cream
1/4 cup all-purpose flour
1/4 cup chopped candied orange peel
1/8 teaspoon salt
7 ounces dark or semi-sweet chocolate, chopped