French Onion Mashed Potatoes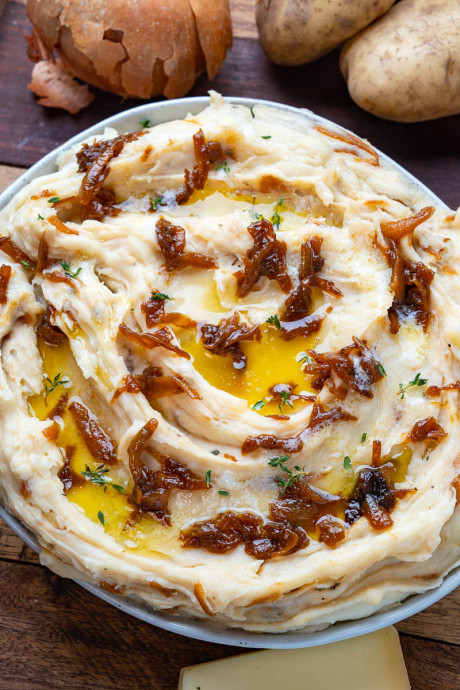 Mashed potatoes with the flavours of French onion soup including the caramelized onions and plenty of melted gruyere cheese!
Mashed potatoes are a staple side dish that work for pretty much any meal and it's fun to change things up by adding flavours to them. French onion soup has some amazing flavours that work particularly well in mashed potatoes! The primary flavour in French onion soup is the caramelized onions which are slowly cooked until a deep golden, which brings out their sweetness and flavours! The onions take a while to cook and brown bits will start to form on the bottom of the pan which can burn if allowed to, so beef broth (another flavour from French onion soup) is used to deglaze the pan, by allowing the brown bits to be scraped up off the bottom of the pan as they cook. Some more flavours form the soup, garlic, thyme, worcestershire sauce, balsamic vinegar and soy sauce are added to the onions after they caramelize. The mashed potatoes themselves are super easy to make; the potatoes are boiled until tender before mashing them and adding plenty of melted butter and cream along with the caramelized onions. French onion soup is normally topped with toast and melted gruyere cheese and the cheese is mixed into he mashed potatoes while they are still piping hot to allow them to melt! These French onion mashed potatoes are super tasty and an amazing side for any meal, especially a family dinner!
Ingredients:
1 tablespoon oil
2 pounds onions, sliced
1 cup beef broth (or water)
1 clove garlic, chopped
1/2 teaspoon thyme, chopped
1 teaspoon worcestershire sauce
1 teaspoon balsamic vinegar
1 teaspoon soy sauce
For the mashed potatoes:
3 pounds russet potatoes, peeled and cut into 2 inch cubes
4 cloves garlic, peeled
1/4 cup butter, melted
1/4 cup cream, room temperature
1 cup gruyere, shredded