Pumpkin Alfredo Pasta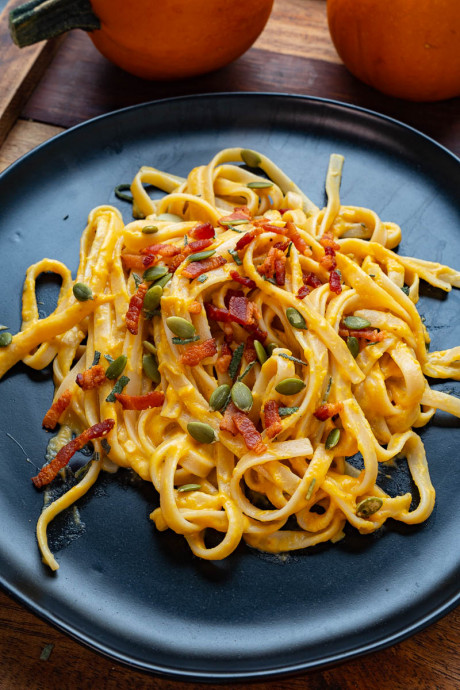 A quick, easy and tasty pumpkin pasta sauce with all of the flavours of fall!
It's fall and I've been roasting pumpkins to make pumpkin puree and a great way to enjoy it is in a pasta sauce! This is a pretty simple alfredo inspired style of sauce with a base of butter, cream and parmesan cheese in addition to the pumpkin puree along with onion and garlic. This sauce is so easy to change up or modify and I often like to add some red pepper flakes for heat, sage, and nutmeg nd/or cinnamon for even more fall flavours. I sometimes like to add things like spinach and sauteed mushrooms or change up the cheese; a blue cheese is particularly nice! It's also super easy to garnish this pasta with things like crispy fried sage, bacon, pepitas, toasted pecans, or walnuts, etc. Not matter how you make it, this pumpkin alfredo pasta sauce is an amazing fall meal and it's stores well in the fridge or even in the freezer if you want to make it ahead of time!
Ingredients:
12 ounces pasta (gluten-free for gluten-free)
4 tablespoons butter
1 small onion, diced
4 cloves garlic, chopped
1 pinch red pepper flakes (optional)
1 cup low-sodium chicken broth (or vegetable broth)
2 cups pumpkin puree
1 pinch nutmeg (optional)
1 pinch cinnamon (optional)
1/2 cup heavy cream
1/4 cup parmigiano reggiano (parmesan cheese), grated
1 tablespoon sage, chopped
salt and pepper to taste