Old-fashioned Salisbury steak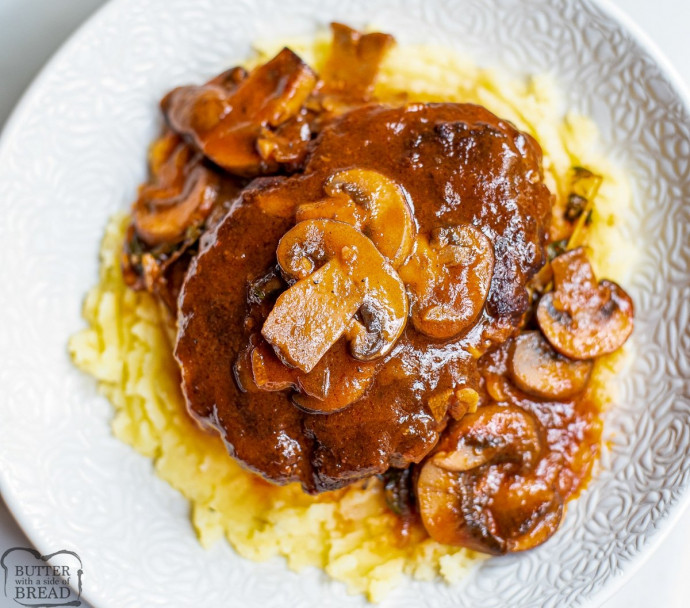 This delicious old-fashioned Salisbury steak recipe is made from scratch and tastes incredible! Classic ingredients for this comforting salisbury steak dinner that everyone craves.
Salisbury steak is one of those comfort dishes that always hits the spot. Little meat patties covered in gravy, a perfect addition to any table, and it goes well with so many side dishes including mashed potatoes, egg noodles, rice, or green veggies too. Every bite will remind you of your childhood as you enjoy a delicious family meal together.
While you could easily buy premade and frozen Salisbury steak meals from your grocery store's freezer section, nothing beats the taste of homemade. It's so easy to make this recipe from scratch that you may find yourself doing it more often. Not only that but the flavors are so much more pronounced and perfect. Can't get that from a box. Serve immediately with mashed potatoes & vegetables. Enjoy!
Ingredients:
1 pound ground beef 453.3 g
½ cup bread crumbs 4.19 oz | 119 g
1 egg
½ teaspoon dried oregano
½ teaspoon garlic powder
Sea salt
Ground black pepper
1 tablespoon extra virgin olive oil
2 tablespoons butter unsalted
1 large onion peeled and sliced
1 garlic clove peeled and minced
8.81 oz mushrooms 250 g, thinly sliced
5 fresh thyme sprigs
1 tablespoon tomato paste
1 ½ cups beef broth 12 fl. oz | 375 ml
¼ cup red wine 2 fl. oz | 60 ml