Easy Apricot Jam Bars With Walnuts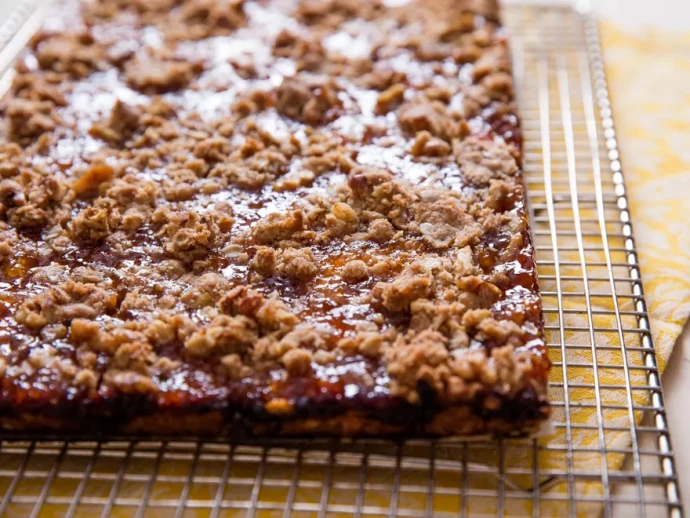 This is one of the world's most forgiving desserts, and it's always a crowd-pleaser. The streusel acts as a crumbly press-in crust as well as a topping. I love apricot preserves, but these bars will work with any flavor preserves, so choose your favorite. You can also substitute pecans for the walnuts, if desired. An easy streusel topping comes together in minutes and doubles as the bottom crust. An infinitely variable recipe: Use the flours, jams, and nuts of your choice.
A rich, buttery shortbread crust, topped with tangy apricot preserves and a nutty streusel make for one delicious treat. It's what dessert and breakfast dreams are made of. Enjoy!
Ingredients:
1 cup unsalted butter (2 sticks; 225g), melted, plus more for greasing pan
1 1/4 cups whole wheat flour (6 ounces; 175g)
1 cup all-purpose flour (5 ounces; 140g)
1 3/4 cups old-fashioned rolled oats (5.5 ounces; 160g)
1/2 cup granulated sugar (4 ounces; 110g)
1/2 cup light brown sugar (3 ounces; 85g)
1 1/2 teaspoons (6g) kosher salt
3/4 teaspoon (4g) baking soda
1 1/2 cups (350ml) apricot jam
1/2 cup (117g) walnuts, roughly chopped