Homemade Toaster Strudel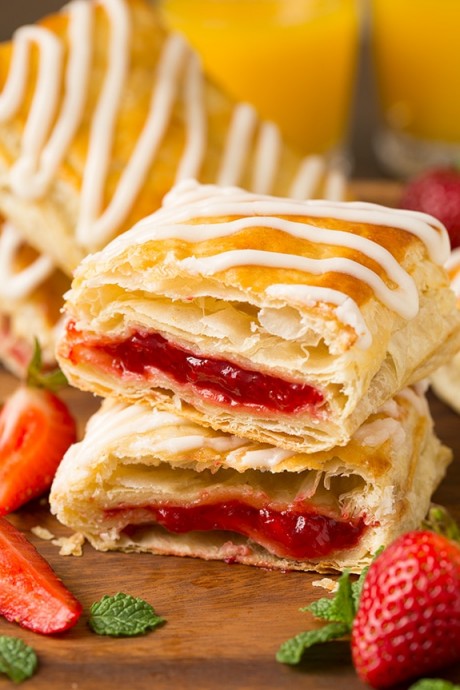 Once you've had these delicious homemade strudels you'll never look at store-bought the same again. Made with buttery flakey puff pastry, sweet berry jam and finished with a simple vanilla icing.
Really these are semi-homemade toaster strudels, unless you want to be really legit and make your puff pastry from scratch. And here we ditch the toaster and actually oven bake them instead. Your whole family will love these tempting breakfast treats! They put the boxed kind to shame. And I may have spotted my husband squeezing the icing straight into his mouth, that little touch of butter and almond extract makes it just that good.
These are a simple pastry to make since they begin with a store-bought puff pastry, and they also use a store-bought jam so they really are a breeze to prepare.
Despite the shortcuts they still have a delicious, fresh homemade taste. You'll be savoring every last bite, trust me! With the wet strawberry jam these are best served within a few hours of preparing to maintain that flaky tender pastry.
Ingredients:
2 sheets puff pastry, thawed
2/3 cup berry jam (blueberry, strawberry, raspberry, etc.)
2 tsp cornstarch
1 large egg
1 Tbsp water
1 1/2 Tbsp salted butter, melted
1 cup powdered sugar
1 1/2 Tbsp half and half, then more if needed
1/4 tsp vanilla extract
1/8 tsp almond extract