Salted Dulce de Leche Brownies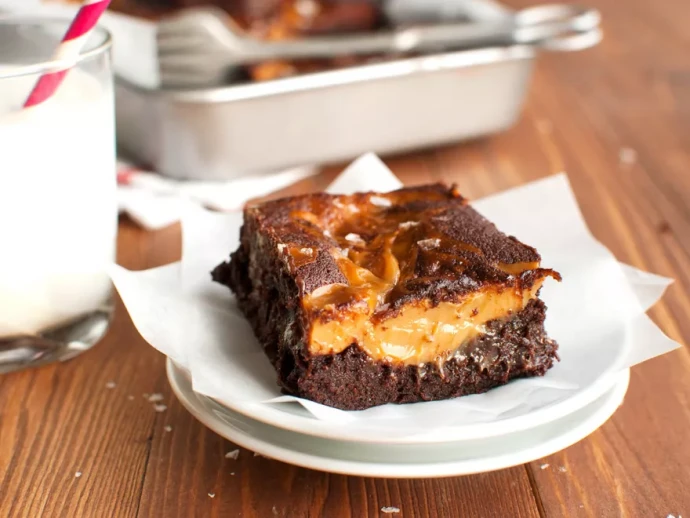 These rich, super fudgy brownies are topped with generous dollops of homemade dulce de leche and a generous sprinkle of sea salt. The thick layer of dulce de leche has the same fudgy texture as the brownie underneath, and the salt wakes the whole thing up. Consider yourself warned, because you're gonna want to make these every day.
Why this recipe works:
Besides granulated sugar, this recipe also calls for a fair amount of light brown sugar and corn syrup: The corn syrup makes the brownies super fudgy, while the light brown sugar intensifies the chocolate flavor.
By creaming the butter with sugar (which is not traditional for a fudgy brownie recipe) we guarantee that the dulce de leche stays on top as the brownies bake, and still get a fudgy texture at the end.
Ingredients:
2 1/2 sticks (10 ounces or 285 grams) unsalted butter, at room temperature, plus more for greasing
1 cup (about 7 ounces or 200 grams) granulated sugar
1/2 cup plus 2 teaspoons (about 5 ounces or 140 grams) packed light brown sugar
1/4 cup (about 2 ounces or 60 grams) corn syrup
1/2 teaspoon vanilla extract
4 large eggs, at room temperature
3/4 cup plus 2 tablespoons (about 4 1/2 ounces or 125 grams) all-purpose flour
1 cup (about 4 1/2 ounces or 125 grams) Dutch-processed cocoa powder
1/4 teaspoon table salt
1 cup (about 8 ounces or 225 grams) homemade or storebought dulce de leche
Flaky sea salt, such as Maldon, for sprinkling