Mandarin Chicken Salad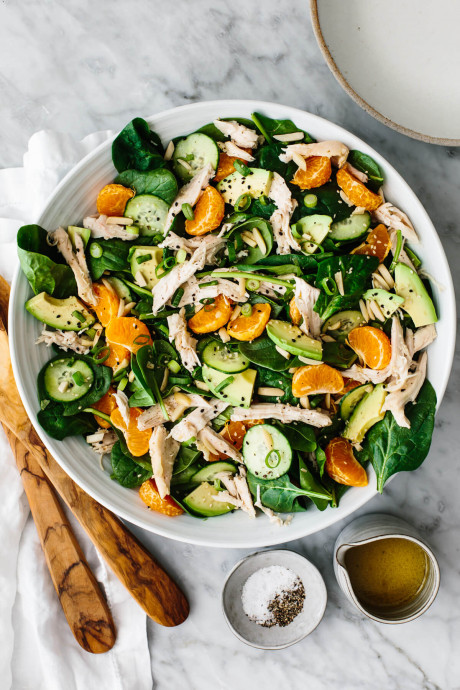 This Mandarin chicken salad ups the ante of what a chicken salad can be. It's piled high with sweet mandarins, shredded chicken, avocado, crunchy toppings, and tossed with a zingy lemon vinaigrette.
You've probably gathered by now that I have a thing for chicken salads.
But when it's mandarin season and you see those bags of Cuties at the market, you must make this mandarin chicken salad! It's got plenty of protein to fill you up, yet it's light enough to not weigh you down, and because the ingredient list is super simple you can easily throw it together. My kind of salad.
To make this salad even easier, you can marinate and bake the chicken the day before. Then, all you need to do is chop up some veggies and toss everything together on the day you're serving.
Plus, you can't deny how gorgeous this salad looks with its shades of green and orange – it's a stunner on the dinner table!
Ingredients:
2 chicken breasts, boneless and skinless
5 cups spinach
4 mandarins, peeled and separated
1 avocado, ripe and diced
1 cucumber, sliced
2 green onions, chopped
1/4 cup slivered almonds
sprinkle of black and white sesame seeds