Christmas Tacos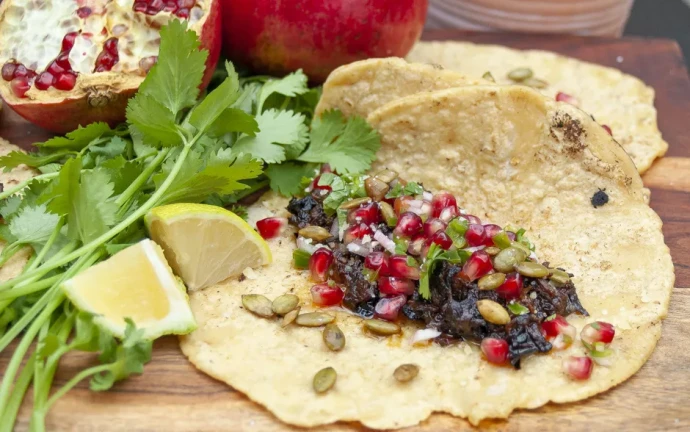 There are countless traditional and nontraditional Christmas foods, so why not tacos? Especially these tacos, which feature comforting braised beef and a topping of holiday-ready pomegranate pico.
Short rib cooked in the slow cooker is the base and a nice hands-off way to cook during the busy holidays. This rich cut is a delight in the middle of winter. It's beefy intensity is nicely balanced by the topping, a seasonal spin on classic pico de gallo that swaps tomato out for tart, wintry pomegranate. A light dusting of cotija cheese or a splash of crema is reminiscent of snowfall while fresh cilantro adds a hit of green. These tacos remind us that we're deeply blessed, enjoying feasts and wonderful gifts even in the middle of winter.
This recipe scales up easily for large gatherings, just be sure to enlist your relatives in seeding the pomegranates. Or better yet, take it easy and just buy the prepared seeds. After all, it's the holidays. Be sure to leave a few extra tacos by the hearth for Santa Claus.
Ingredients:
For the Short Ribs:
2 1/2 pounds short ribs, about 2 bone-in ribs
Kosher salt, to taste
2 teaspoons oil
1 cup pomegranate juice
2 pepper ancho chiles, stems and seeds removed
1 cinnamon stick
1 bay leaf
For the Pomegranate Pico:
1 cup pomegranate seeds
1 jalapeño pepper, diced small
2 tablespoons shallots, diced small
1 lime, juiced
1/4 cup pepitas, lightly toasted
For Serving:
12 corn tortillas
Fresh cilantro, for garnish
Cotija cheese, or Mexican crema, for garnish
Lime wedges, for garnish