Best Hot Chocolate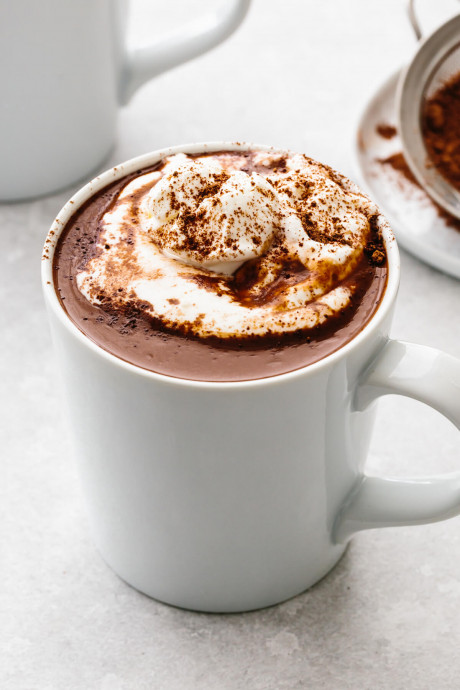 Are you ready for the best hot chocolate you'll ever taste? This recipe is sumptuously rich, velvety smooth, and perfect for warming up throughout the winter season.
There's nothing quite like a cozy mug of hot chocolate in your hands on a cold, wintery day. It's decadent, slightly indulgent, and one of the best parts of the holiday season, along with baking the perfect batch of no bake cookies.
While you can stir cocoa powder into warm milk and call it a day, this recipe is extra special and worth the splurge. Hot, simmering milk melds with semi-sweet chocolate, cacao powder, and a dash of maple syrup, all in one pot. It's lusciously thick, deliciously creamy and a little piece of chocolate heaven.
Dark chocolate has a distinctly rich flavor that tastes amazing when whisked with milk. And when you've finely chopped the chocolate, it'll melt into the most luxurious, velvety texture. But if you're not a fan of the bitterness of dark chocolate, don't worry. A splash of maple syrup sweetens it perfectly.
Ingredients:
4 cups milk, any type will work
3 tablespoons cacao powder
2 tablespoons maple syrup, or honey
4 ounces semi-sweet chocolate, finely chopped (or approx 2/3 cup chocolate chips)
Optional: 1/2 teaspoon of vanilla extract