Arugula Salad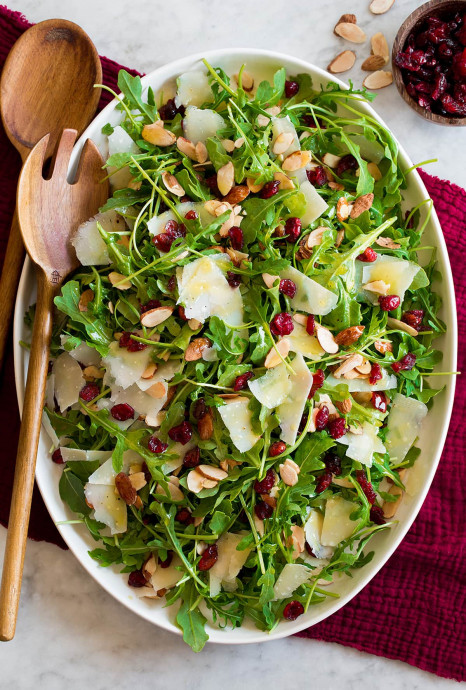 Simple Arugula Salad – it's made with a tasty blend of peppery arugula, sharp parmesan, flavor concentrated dried cranberries, and nutty almonds. And it's finished with a refreshing, tart and lightly sweetened dressing to highlight it.
It may not be the first type of salad you'd think to make because those humble arugula leaves are so often unappreciated and skipped over. But they are a nutritious little leaf with big flavor and they make an incredible salad.
This is a great recipe to have on hand for a quick side, plus it's handy to have during the holidays when the other more popular lettuce choices are picked over.
Here you can switch up the ingredients based on what you have on hand. It's a forgiving recipe with plenty of room for substitutions.
Ingredients:
Salad
5 oz. baby arugula (full grown works too)
2/3 cup sliced almonds, toasted
1/2 cup dried cranberries (sweetened variety)
1/2 cup shaved parmesan (1.5 oz)
Dressing
1/4 cup extra virgin olive oil
2 Tbsp fresh lemon juice or 2.5 Tbsp balsamic vinegar
1 Tbsp honey
Salt and freshly ground black pepper, to taste