Mexican Corn Salad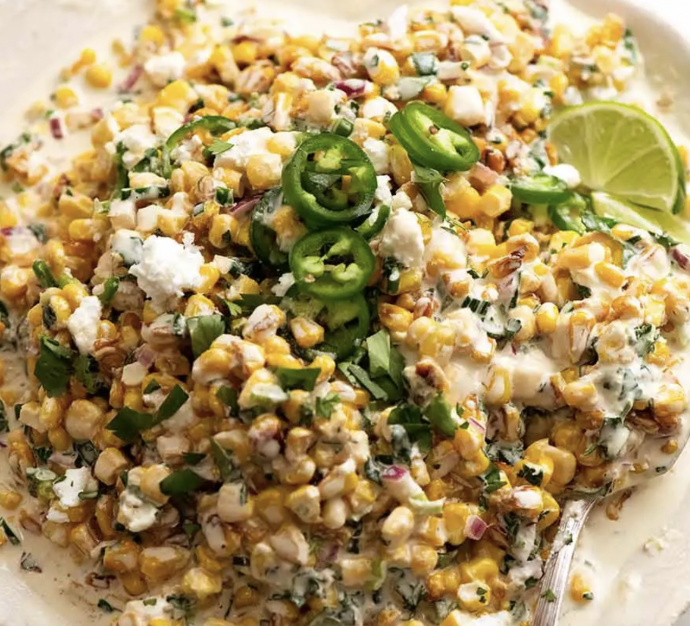 Mexican Corn Salad is a wonderful fresh corn salad made for summer BBQ's and Mexican feasts! It's a giant salad form of Esquites, a corn street snack sold in cups on the streets of Mexico. Corn kernels are sautéed in butter and garlic until golden brown, then dressed in a creamy lime dressing and finished fresh coriander/cilantro and a hint of zing from Jalapeño. It's outrageously and insanely good!
This recipe generated a tizzy of excitement among my group of friends when I first started making it a few years back! Something a little different to the usual steamed-butter-slathered corn on the cob (and there is nothing wrong with that!!), it's bright and colourful, and it's a brilliant dish for sharing.
Mexican Corn Salad is essentially the giant salad form of Esquites which is a popular Mexican Street corn that is sold in cups by street vendors. And in fact, Esquites is the "off the cob" version of Elotes, the famous Mexican Street corn where cobs are grilled over charcoal before being slathered in a creamy-spicy sauce then rolled in crumbled cheese!
Ingredients:
5 cups corn cut from the cob (~4 large ears) (or frozen corn, not thawed, Note 1)
2 tbsp / 30g butter
2 garlic cloves , minced
1/2 tsp each salt and pepper
1/4 cup mayonnaise (can cut down to 2 tbsp)
1/4 cup sour cream (or yoghurt)
1/2 cup parmesan cheese , finely grated (Note 1)
1 tbsp Jalapeno , deseeded and finely chopped (optional)
1 cup coriander / cilantro leaves , roughly chopped
1 cup green onion , finely sliced (~2 stems)
1/2 red onion , finely chopped
2 – 3 tbsp lime juice , fresh (plus more to taste)
GARNISHES
60g / 2 oz Cotija or Feta , crumbled (optional) (Note 2)
Jalapeno slices, coriander/cilantro leaves, lime wedges , optional