Maple Mustard Pork Tenderloin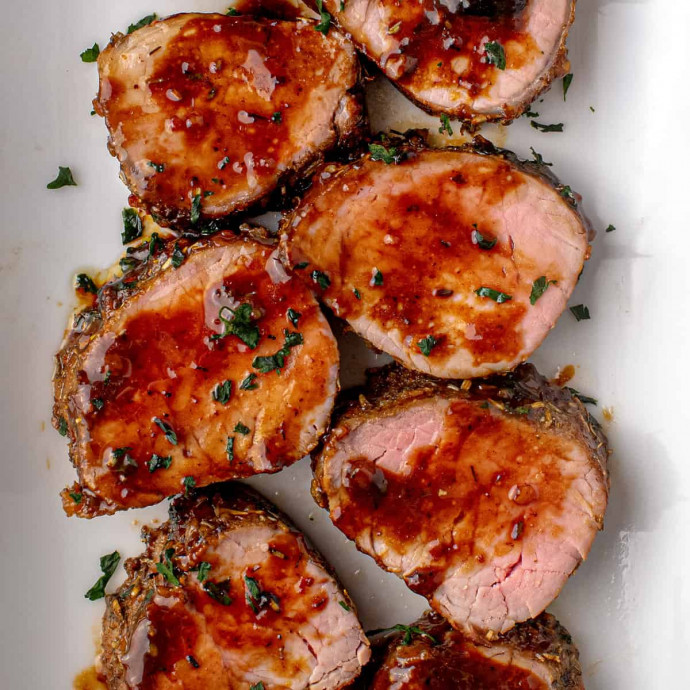 This juicy and tender Maple Mustard Pork Tenderloin is crusted in a dry rub, seared in a skillet until golden brown, then roasted in a mouthwatering maple mustard sauce until glazed and perfectly cooked! Pork tenderloin is a fabulous weeknight dinner idea, and you'll want to put that maple mustard sauce on everything in sight!
This roasted pork tenderloin recipe is one of those recipes that does double duty. Not only is it great for a regular family dinner (even a weeknight dinner if you prep ahead), but it also works well on your holiday dinner table as well!
It tastes fantastic, looks fancy, yet is surprisingly simple to make.
Pork tenderloin is one of those cuts of pork that is easily available at the grocery store, and as a bonus, a lot of the time you can pick up a package of pork tenderloin that has two tenderloins in it! This may not be true in every region, but here in the midwest, that's what's in my grocery store.
So you can double this recipe, or freeze the other tenderloin for a future dinner! Normally I'm all about the freezing option, but this pork recipe is so good, you may want to make extra so you have some leftovers.
Ingredients
Pork
1 lb. pork tenderloin silver skin removed
2 Tbsp vegetable oil
1 tsp dried oregano
1 tsp dried rosemary
1/2 tsp garlic powder
1/2 tsp paprika
1/2 tsp dried thyme
1/2 tsp kosher salt
1/2 tsp black pepper
1/2 cup reduced sodium beef broth
Maple mustard sauce
3 Tbsp maple syrup real maple syrup is best
2 Tbsp reduced sodium soy sauce
2 Tbsp creamy Dijon mustard
3 cloves garlic minced
1/4 tsp kosher salt
1/4 tsp black pepper
Garnish
minced fresh parlsey
additional pan drippings