Autumn Kale Harvest Salad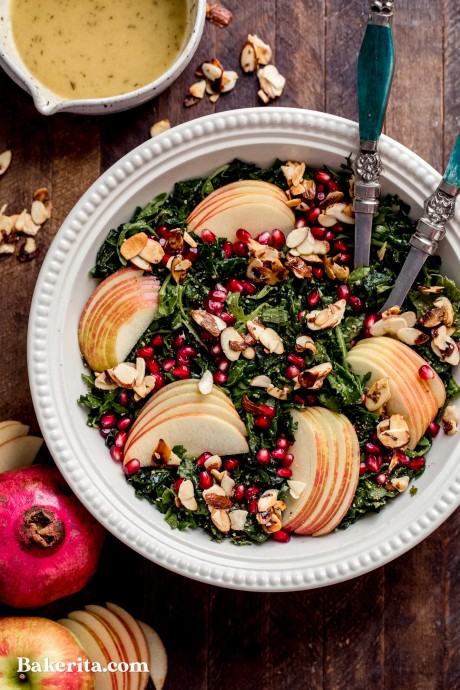 This Autumn Kale Harvest Salad brings together the best of fall's produce into a beautiful salad. It's made with thinly sliced kale, pomegranate seeds, Honeycrisp apple slices, candied almond slices, and tossed in a lusciously sweet and tangy Apple Cider Vinaigrette. It's healthy, simple, beautiful, and the perfect accompaniment to your holiday meal or autumn dinner table.
This Autumn Kale Harvest Salad is easy to prep ahead of time, keeps well in the fridge (thanks for being so hearty, kale!), that's why you can prepare it days ahead of time, and even dress it early in the day, and because it's so hearty, it won't wilt on you. It has all sorts of bright, fall flavors to grace your family dinner.
The Apple Cider Vinaigrette is a great salad dressing here! It's simple, tart, easy to mix together, and absolutely full of flavor. It works so beautifully in this salad, but can also be used for something like a grain bowl if you end up with some leftover.
Ingredients:
2 bunches Lacinato kale, stems removed and thinly sliced
2 cups baby arugula, optional
1 Honeycrisp apple, thinly sliced
½ cup pomegranate seeds
½ cup slivered almonds
2 tablespoons maple syrup
¼ cup extra-virgin olive oil
¼ cup apple cider vinegar
1 tablespoon tahini, can substitute dijon mustard
1 garlic clove, grated
2 teaspoons maple syrup
¼ teaspoon salt, or to taste
¼ teaspoon dried thyme
Freshly ground pepper, to taste