Roasted Potatoes and Carrots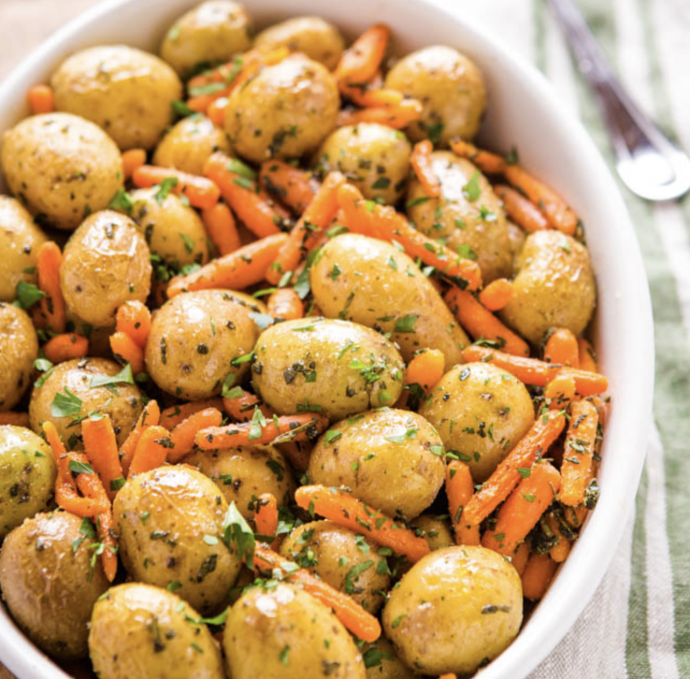 This Roasted Potatoes and Carrots recipe is the perfect easy side dish that's delicious enough for the holidays and easy enough for a weeknight meal! On the table in 40 minutes! The holidays are coming quickly and if you're like me you're already thinking of ways to save time and energy on your family's holiday celebrations. There's no easier side dish than these Roasted Potatoes and Carrots for your holiday dinners and the best part is, you'll kill two birds with one stone because this dish contains both a starch and a veggie!
This Roasted Potatoes and Carrots recipe comes together in under 10 minutes and bakes to perfection in about 30 minutes – it's easy to prep up to one day ahead of time, store in the fridge, and pop into the oven just before dinner! Trust me, you're going to love it!
Tips
Choose pre-washed and pre-cut veggies. Although they cost a little more, pre-cut veggies in the produce section can save SO much time!
Use fresh herbs. While dried herbs and spices are truly SO easy, fresh ones take just an extra minute or two to chop and the flavour pay-off is amazing (and definitely worth it!).
Keep the flavours simple. Choose basic flavours you have on hand and let the flavours of the vegetables shine!
Prep ahead of time. If you can, make the side dish ahead of time, cover it, and store in the refrigerator until you're ready to bake and serve!
Ingredients:
3 pounds baby potatoes
4 cups baby carrots
2 tablespoons olive oil
1 1/2 teaspoons salt
1/2 teaspoon pepper (or to taste)
1 teaspoon garlic powder
2 teaspoons freshly chopped sage (or 3/4 teaspoon dried sage)
2 teaspoons fresh thyme leaves (or 3/4 teaspoon dried thyme)
2 teaspoons fresh chopped rosemary (or 3/4 teaspoon dried rosemary)