Iced Sugar Cookie Latte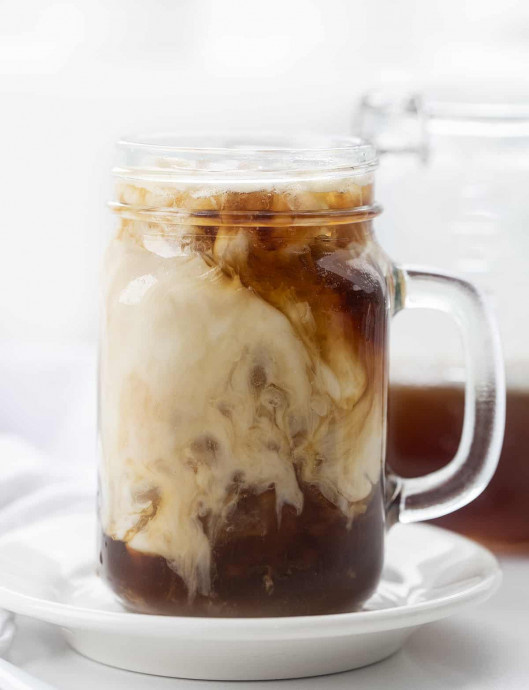 Iced Sugar Cookie Latte is a non-dairy, iced coffee drink made with homemade sugar cookie-flavored syrup, light roast espresso, and almond milk. This drink is a copycat of Starbuck's Iced Sugar Cookie Almond Milk Latte. But, there is no need to wait in long lines to get sipping on this refreshing caffeinated drink. The Starbucks employee who came up with this drink said she was inspired by spritz cookies, which also have a buttery and vanilla flavor, like the sugar cookie syrup added to the drink.
Sugar Cookie Syrup: When you make the sugar cookie syrup, it will yield about 1 1/4 cups. You only need to add between 1-3 tablespoons to your 16-ounce drink (or your preference), which means you will have plenty to use for more drinks. It will last up to a month in the refrigerator.
Espresso: Espresso is a concentrated form of coffee. It's made with finely-ground coffee beans and an espresso machine that blasts boiling water through the ground coffee. It is served in shots (about 1 ounce per shot). It can be made with any kind of coffee, from light roast to dark roast. (I prefer a light roast in this recipe.) You can also buy espresso ground coffee and even espresso K-cups you can make in a Keurig coffee maker. If using regular coffee, the coffee flavor will be less intense.
Almond Milk: Almond milk is plant-based milk with a nutty flavor, which pairs perfectly with a light roast in this drink. It also makes this drink non-dairy. However, you can always substitute your milk of choice. (I love Oat Milk in this!!)
Ingredients:
Sugar cookie syrup
½ cup (100g) granulated sugar
½ cup (100g) light brown sugar, packed
1 cup (250g) water
2 tablespoons unsalted butter
1 teaspoon vanilla extract
½ teaspoon almond extract
Latte
Crushed ice
1-3 tablespoons sugar cookie syrup, based on preference
1-2 shots light roast espresso, based on preference
½ cup almond milk