Cheesy Garlic Herb Palmiers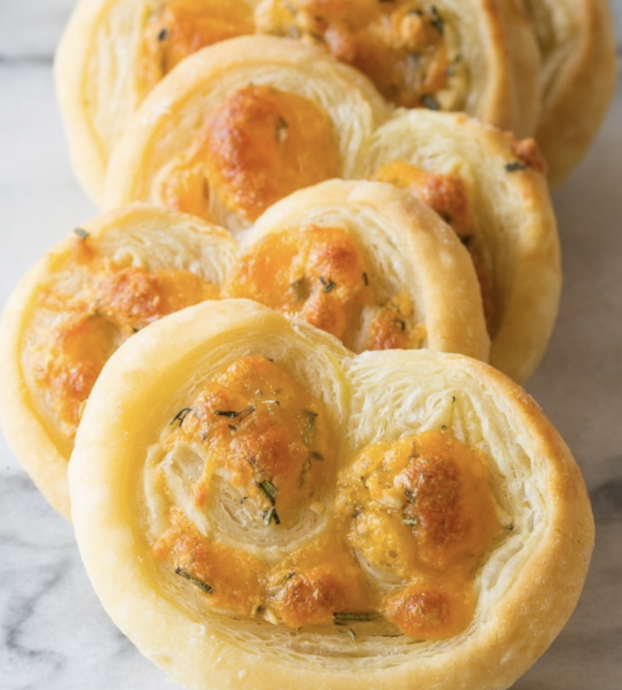 Amazingly simple and delicious 6-Ingredient Cheesy Garlic Herb Palmiers, just in time for the holidays. The countdown has begun. Holiday parties are happening all around us.
If you are still on the lookout for quick and easy party snacks to get you through the next few weeks of family, neighborhood, and work events… I've got you covered.
Every year I play around with various recipe concepts to make holiday party planning easier, and tastier. Yet there are some appetizers I keep coming back to again and again. Palmiers are a snack we make every single year. Thinking back, I believe I've made them for either Christmas or New Years throughout our entire marriage (Seventeen years!)
Made with buttery puff pastry, they are both comforting and elegant. Yet palmiers are so fast to make and pop in the oven, you won't believe it!
You can prep them several days in advance if you want, and leave them wrapped in the fridge until a few minutes before an event. I've been known to make double or triple batches, so that I have extra palmiers ready to put in the oven for impromptu guests that drop by.
Ingredients:
2 sheets frozen puff pastry, thawed
1 1/4 cups Borden® Finely Shredded Extra Sharp Cheddar Cheese
2-3 cloves garlic minced
1 tablespoon fresh chopped rosemary
1 tablespoon fresh chopped thyme
1 egg, beaten
Salt and pepper