Salmon Cobb Salad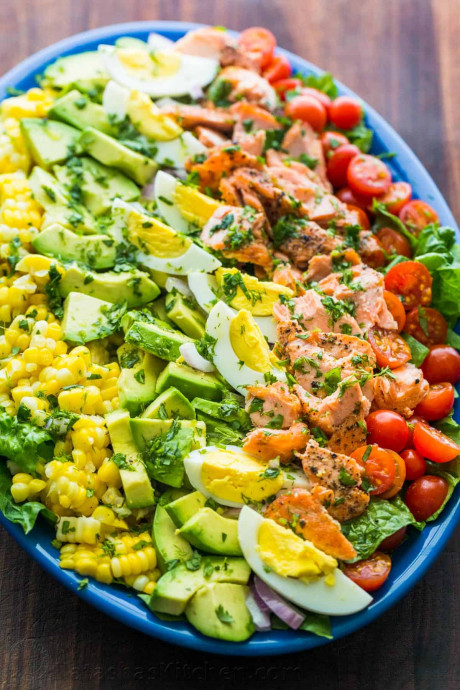 Salmon Cobb Salad is a modern spin on the classic American Cobb salad. We swapped chicken for salmon which pairs so well with the cilantro lime dressing. This cobb salad recipe is fresh, healthy, and very delicious!
Everything about this Salmon Cobb Salad is good, particularly that my children love it. This was the first lettuce salad that my 3-year old agreed to eat and she asked for more! It is definitely a feel-good, protein packed salad loaded with crisp lettuce, sweet corn, avocados, ripe cherry tomatoes and perfectly cooked eggs. It has a similar flavor profile to our popular chicken avocado salad. It is also gluten free and paleo diet friendly.
The classic Cobb salad is classic American salad. It is typically made with chicken, tomato, bacon, boiled eggs, avocado, chives and roquefort cheese, all layered in strips over a bed of mixed greens and served with red wine vinaigrette.
There are several stories circulating about the origin of the Cobb salad but the the most popular is that it was invented by Robert Howard Cobb (a restaurant owner during the Hollywood era). As the story goes, he hadn't eaten until nearly midnight when he threw together leftovers from the kitchen with French dressing and this iconic salad was born.
Ingredients:
Ingredients for Pan Seared Salmon:
1 lb salmon, boneless, skinless (preferably wild-caught)
1 tsp sea salt
1/4 tsp black pepper
Ingredients for Cobb Salad:
1 large head of romaine lettuce, chopped, rinsed and spun dry
2 ears of corn, cooked, shucked and cut off the cob
1/2 medium red onion, thinly sliced
2 large hard-boiled eggs, peeled and quartered
1 large avocado, peeled, pitted and sliced
1 1/2 cups cherry tomatoes, halved
Ingredients for Cilantro Lime Dressing:
3 Tbsp fresh lime juice, from 1 to 2 limes
3 Tbsp extra virgin olive oil
2 Tbsp cilantro, chopped
2 Tbsp dill, chopped
1 large garlic clove, pressed or finely minced
1 tsp sea salt
1/8 tsp black pepper