Vegetable-Noodle Soup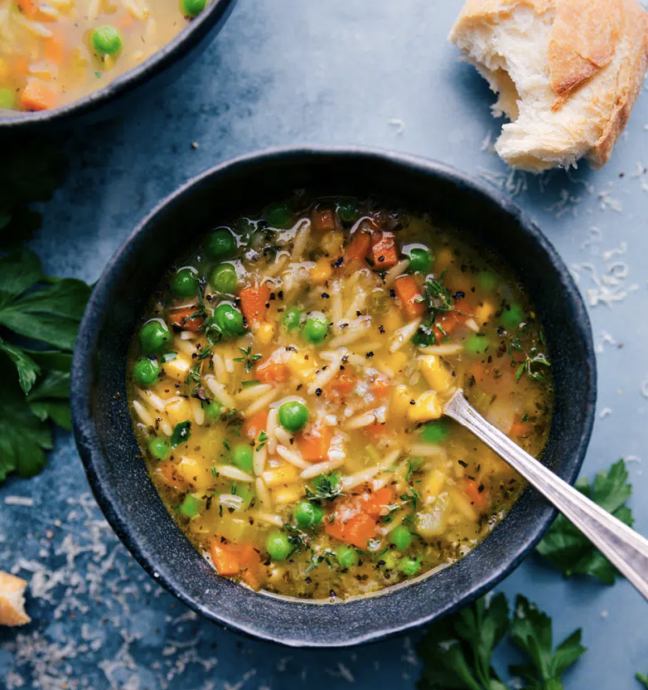 This is our favorite Vegetable-Noodle Soup prepared in ONE pot with an array of mixed veggies, orzo pasta, and a sprinkle of Parmesan cheese. Grab some crusty bread and let's get started!
Looking for a chicken vegetable noodle soup? Try our Creamy Vegetable Noodle Soup that has loads of veggies and rotisserie chicken thrown in! Alternatively, add rotisserie chicken to this soup! The best vegetable noodle soup recipe in my book needs to be flavorful, packed with veggies while still being kid-friendly, and all made in one pot! This recipe checks all those boxes. It's nutritious and good for you while still having plenty of flavor. And the kids couldn't seem to get enough, so it's a win all around! This soup is broth-based, but quite thick, hearty, and filling–especially if you throw in some leftover grilled chicken or some leftover rotisserie chicken!
Vegetable-Noodle Soup actually uses pasta (not noodles), but this recipe is inspired by a classic chicken noodle soup and is likely what is most familiar to you (hence the name of the recipe).The pasta we use? A personal favorite: orzo! If you aren't familiar, orzo is a type of short-cut pasta that looks like large grains of rice. Although orzo looks a bit like rice, it's made from flour. (It's a common misconception that rice and orzo can be interchanged, but they are different and won't cook the same in this recipe.) You can find orzo on the pasta aisle of most grocery stores!
Ingredients:
2 tablespoons (30g) olive oil
1 cup each: finely diced onion (128g), carrot (110g), celery (106g) Note 1
1 tablespoon (20g) finely minced garlic (~3 cloves)
1 teaspoon Italian seasoning
1/2 teaspoon each: dried thyme, dried basil, dried oregano, dried parsley
Fine sea salt and cracked pepper
6 cups (1221g) chicken or vegetable stock Note 2
2 bay leaves
1 Parmesan rind, optional (Note 3)
1 cup (172g) orzo pasta
1 cup each: frozen corn (124g), frozen peas (147g)
Optional: 1 cup diced cooked chicken
Optional: 3 tablespoons finely minced fresh parsley, 3-4 sprigs fresh thyme, Parmesan cheese
For serving: crusty bread