Green Chile and Cheese Keto Breakfast Casserole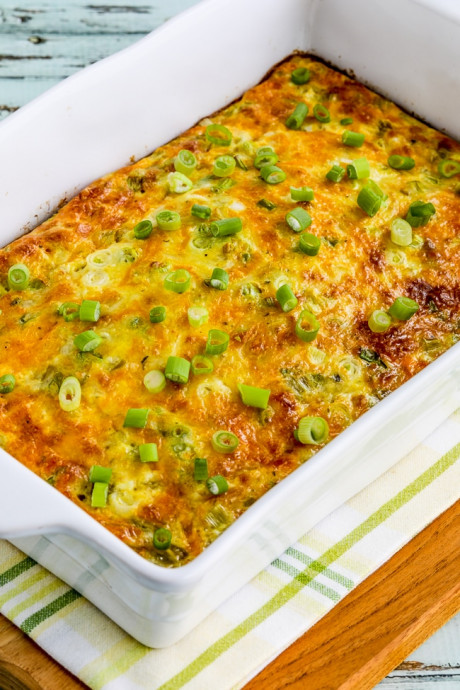 Green Chile and Cheese Keto Breakfast Casserole is a great combination of flavors, and this recipe uses the canned green chiles I always have in the house! Normally I wouldn't start off the month of June with a new recipe that cooks in the oven, but for months now I've been thinking about low-carb recipes that use ingredients people keep on hand. And at my house diced green chiles are something that's always in the pantry, which is one reason Green Chile and Cheese Egg Muffins are something I make for breakfast when the vegetable crisper is empty.
So when the idea for Green Chile and Cheese Keto Breakfast Casserole popped into my head, I had to try it. And it was so tasty I decided that even though we're almost in that don't-turn-on-the-oven time of year, people might still make this for a breakfast dish if they usually have these ingredients on hand like I do! And this is ultra-easy, with no ingredients that need to be pre-cooked and only green onions to be chopped.
I used plenty of rinsed cottage cheese combined with a Cheddar-Jack Cheese blend so this breakfast casserole is pretty cheesy. I know people doing Keto always like that, but you can certainly use a bit less cheese if you prefer. I did use a large can of diced green chiles, but you can use a smaller size can if you want less heat. And this makes eight servings, so it's perfect to make for Weekend Food Prep and eat for a few days, which is exactly what I did!
Ingredients:
1 1/2 cups cottage cheese
16 eggs
one 7 oz. can diced green chiles (see notes)
2 3/4 cups grated Cheddar-Jack cheese (see notes)
1 bunch green onions (or more)
1 tsp. Spike Seasoning (see notes)
salt and fresh-ground black pepper to taste