Fennel Walnut Soup With Leeks & Turmeric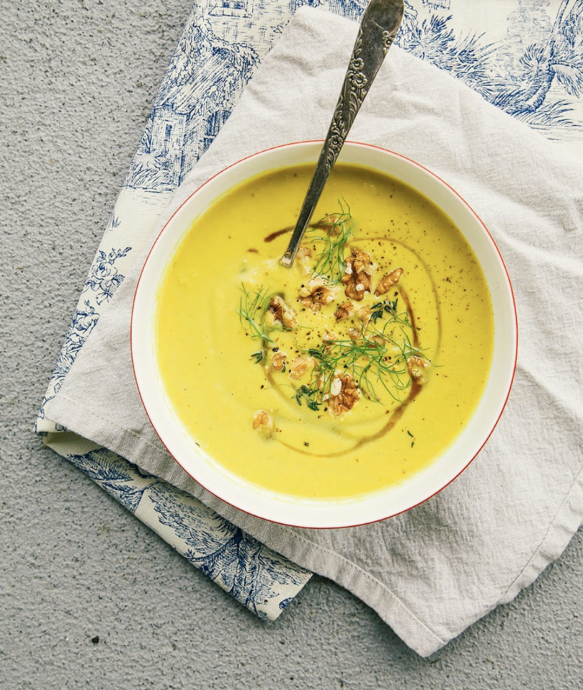 A golden and revitalizing fennel walnut soup with apples, leeks, and turmeric. Walnuts are blended into the soup for an extra creamy texture.Every season is soup season in my eyes. The colour of this fennel walnut soup with turmeric wins me over every time. I love adding a handful of toasted nuts to a blended soup because it "creams" the texture up a bit. This also makes the soup super satiating!
It's cooled off a bit here, so the thought of hot soup and a crust of bread is extra appealing. We've been doing tons of Fall gardening and cleanup, so cozy lunch breaks are ideal. I love fennel with leeks and apples in a salad situation, all sprinkled with toasted and chopped walnuts. A warm version of that felt just right.
I will take my anti-inflammatory goodness in any way I can get it, so we add a little spoonful of turmeric to this fennel walnut soup. It dyes the soup mustard-yellow, which is kind of cheerful in its own special way. I pre-toast the walnuts in the pan, simmer them along with the veg and purée them into the soup itself. Strong toasty walnut flavour comes through with all of the leeks, fennel and lightly sweet apple and makes the whole thing a touch creamier.
Ingredients:
2 tablespoons olive oil
3 leeks, white and light green parts chopped (discard green tops or use them for stock)
2 teaspoons fresh thyme leaves, chopped
1 medium fennel bulb, cored and chopped
1 medium apple, peeled, cored and chopped
1 teaspoon ground turmeric
½ cup walnut halves, toasted
sea salt and ground black pepper, to taste
4 cups vegetable stock
To Serve
maple syrup
freshly ground black pepper
chopped fennel fronds
more toasted walnuts chopped