Easy Fingerling Potato Salad With Creamy Dill Dressing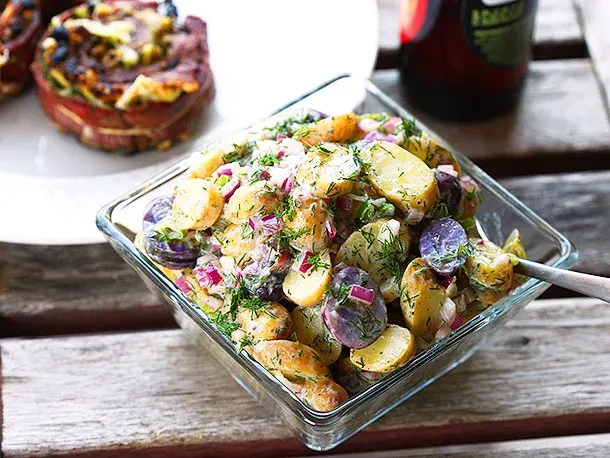 The key to the deeply-seasoned potatoes in this tangy and creamy salad is to cook them in water seasoned with salt and vinegar. A dressing flavored with olive oil, sour cream, and dill binds it together. Adding salt and vinegar to the potato cooking water not only seasons the potatoes deeply, but the vinegar also prevents them from falling apart as they cook.
Seasoning the potatoes with more vinegar while they're still hot is key to deep flavor penetration and a light texture on the palate.
Ingredients:
1 1/2 pounds fingerling potatoes (such as La Ratte or Russian Banana), cut into 1/2-inch disks
Kosher salt
2 tablespoons white wine vinegar, divided
1 tablespoon whole grain mustard
2 tablespoons sour cream
2 teaspoons extra-virgin olive oil
1 small red onion, diced (about 3/4 cup)
2 scallions, finely sliced (about 1/4 cup)
2 tablespoons minced fresh dill
Freshly ground black pepper