Classic Coffee Cake With Cinnamon Streusel Topping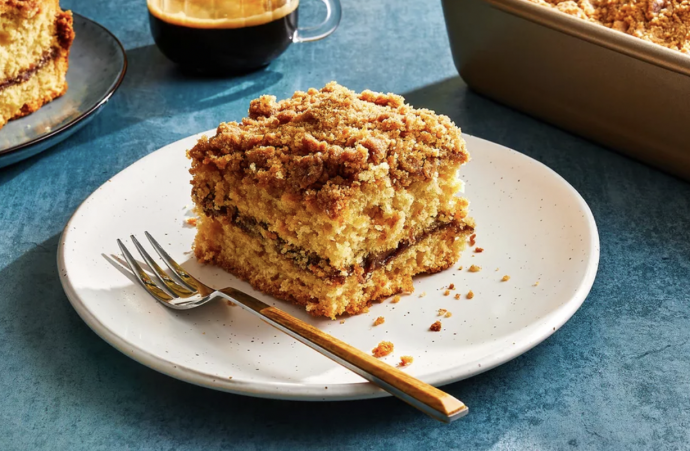 A classic coffee cake is a fabulous cake to make for a holiday morning, meeting, or social gathering. This coffee cake is easy to prepare and bake, and it's an excellent alternative to donuts or quick breads. Plus, homemade is so much better than store-bought. The ribbon-like swirl of cinnamon gives the cake a unique look, and the crunchy streusel top adds delicious texture.
A coffee cake doesn't contain coffee—it's a moist and tender cake usually served along with coffee or tea or as a breakfast cake or brunch dessert. The American coffee cake may have originated with the German crumb cake that people served with coffee at informal gatherings or kaffeeklatsches.
Don't be put off by the list of ingredients—the cake is really very easy to put together and bake following the concise step-by-step directions, and you can prepare it a day in advance. Cover the prepared, unbaked cake and refrigerate it overnight. The next morning, remove the covering and bake the cake as directed. Since the cake will be cold, allow an extra 5 to 10 minutes of baking time.
Ingredients:
For the Cinnamon Layer
3/4 cup (148 grams) packed brown sugar
1/4 cup (33 grams) flour
1 tablespoon ground cinnamon
For the Streusel Topping
1 cup (198 grams) packed brown sugar
1 cup (120 grams) flour
1 1/2 teaspoons ground cinnamon
1/2 cup (113 grams) unsalted butter, softened
For the Coffee Cake
Cooking spray, for the pan
3 1/4 cups (396 grams) flour
1 1/2 teaspoons baking powder
1/2 teaspoon baking soda
1 teaspoon salt
1 cup (227 grams) unsalted butter, softened
2 cups (402 grams) granulated sugar
4 large eggs, room temperature
2 teaspoons pure vanilla extract
1 cup sour cream, room temperature
1/3 cup milk, room temperature