Chocolate Sour Cream Cake Recipe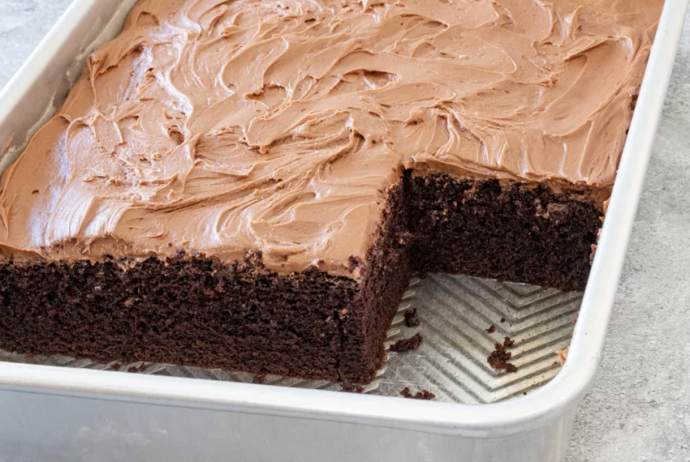 This chocolate sour cream cake is easy to make and doesn't even require a mixer. Just combine the ingredients, pour the batter into the prepared rectangular pan, and bake! You can make the batter with hot, freshly brewed coffee or hot water. Coffee has a way of intensifying chocolate flavor, but the cake is excellent with or without it.
The frosting is easy as well. It's a rich, silky chocolate frosting with enough sour cream to give it a tangy flavor that complements the cake perfectly. The recipe makes about 3 1/2 cups of frosting, enough to make a generous layer on this delicious chocolate sour cream cake.
A one-layer cake is excellent for taking along to a party, potluck, or office event because there's no need to take it out of the pan, fuss with layers, or finish it with elaborate decorations. It is perfect as it is!
Ingredients:
For the Cake:
2 cups (255 grams) all purpose flour
2 cups (396 grams) sugar
3/4 cup (65 grams) unsweetened cocoa powder, natural
2 teaspoons baking soda
3/4 teaspoon salt
2 large eggs
1 cup (227 grams) sour cream
3/4 cup vegetable oil
1 1/2 teaspoons pure vanilla extract
1 cup (236 ml) very hot brewed coffee, or very hot water
For the Frosting:
1 1/2 cups (255 grams) semisweet chocolate chips
6 tablespoons (85 grams) unsalted butter
2/3 cup (150 grams) sour cream
1 1/2 teaspoons pure vanilla extract
1/4 teaspoon fine salt
3 1/2 cups (398 grams) confectioners' sugar, or as needed for consistency