Roasted Apple and Aged White Cheddar Soup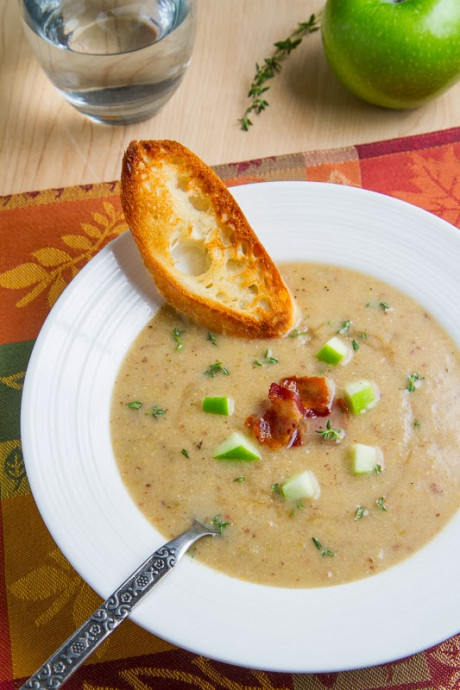 A tasty fall roasted apple soup with age white cheddar and bacon.
For my next apple recipe I continue with my apple and cheddar theme in this tasty roasted apple and cheddar soup! This apple and cheddar soup could not be easier, you start out by roasting some apples to bring out even more flavour and then the apple flavours continue with the use of apple cider as part of the soups liquid base.
A ham broth goes particularly nicely in this soup as the main liquid but otherwise a chicken broth or even a vegetable broth would also work. Of course the second star of the show is a nice aged white cheddar which really packs in the flavour so you do not need a lot of it. I have to say that this soup is a truly beautiful blending of sweet and savoury and I like to finish it off with a touch of grainy mustard and maple syrup to really bring the effect home!
Ingredients:
4 apples, peeled, cored and cut into 1 inch pieces
1 tablespoon oil
salt and pepper to taste
1 tablespoon oil
1 medium onion, diced
2 cloves garlic, chopped
1 teaspoon thyme, chopped
2 cups chicken broth or vegetable broth or ham broth
1 cup apple cider or apple juice
1 cup milk or cream
1 cup aged white cheddar, shredded
1 tablespoon grainy dijon mustard
salt and pepper to taste