Chicken with Peanut Sauce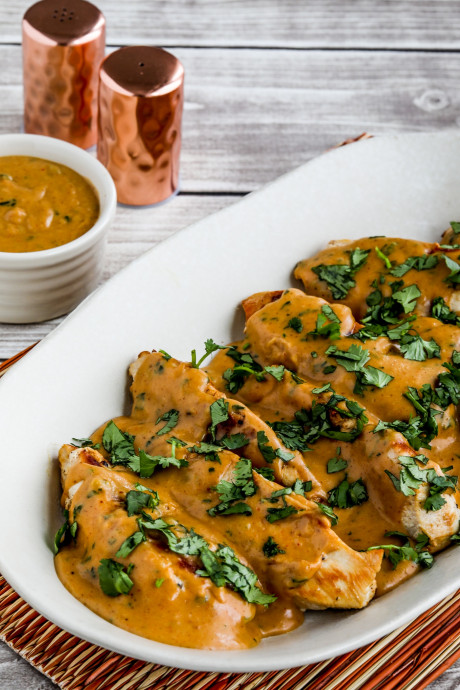 Chicken with Peanut Sauce is one of my favorite easy low-carb recipes with chicken and this dish is flavored with Thai Curry Paste! If you like Thai flavors, this might be a recipe you'll end up making over and over.
Chicken with Peanut Sauce is a recipe I've loved for years, and today I'm updating the recipe with better photos, plus two slight changes that I think make this delicious chicken dish even better! The recipe starts with trimmed chicken breast strips that are lightly browned. Then a few key ingredients are blended to make a creamy peanut/curry/ginger paste. Then you heat the paste and mix with coconut milk and chopped cilantro (if desired) and the result is a highly flavorful, fresh tasting sauce that really bumps up the flavor of whatever you serve it with. This Thai-inspired peanut sauce was really great on the chicken, but I you could also serve it on pork, fish, broccoli, or cauliflower. Anyone have other ideas for using the extra sauce? Let me know in the comments.
Ingredients:
4 boneless, skinless chicken breasts, trimmed and cut in half legthwise
2 T minced ginger
1 T minced garlic
1/2 cup smooth natural peanut butter at room temperature
1/4 cup rice vinegar
3 T soy sauce
2 T Monkfruit Sweetener or sweetener of your choice
2 tsp. red Thai Curry Paste
fresh ground black pepper to taste
about 2 T peanut oil (depends on your pan)
one 13.5 oz. can unsweetened coconut milk
4 T finely chopped cilantro, plus more for garnish if desired