Celebration Salmon Salad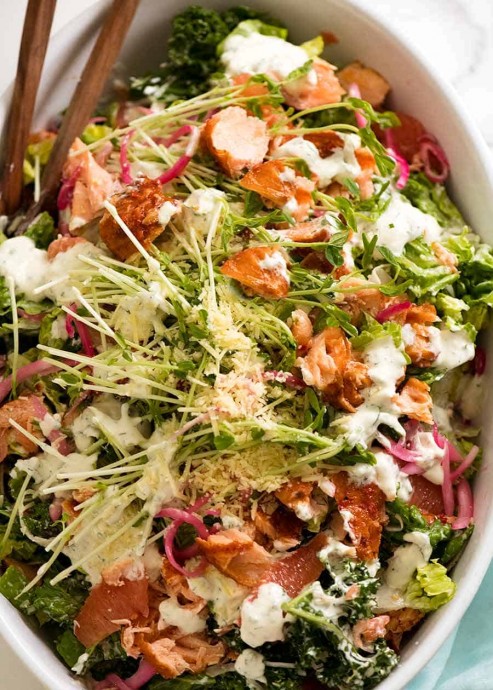 With chunky flakes of hot smoked salmon and an addictive Yogurt Ranch Dressing, there's a handful of components to this recipe but it's easy – and it's all the little details that makes this so special! Bonus: can be entirely prepped ahead, stays perky for over an hour even once dressed!
This Celebration Salmon Salad is intended to be a main dish. Piled on a big platter, I think it makes a striking centerpiece on a buffet table, or a smaller scale for sharing with friends. Hot smoked salmon adds a touch of special to this salad that's loaded with fabulous flavors and textures. You'll love the dressing! The yogurt brings a welcome tang to this creamy dressing that's loaded with traditional ranch flavors. Just mix and set aside 20 minutes+ to let the flavors develop. Recipe written for 5 servings, double batch pictured in post, shown as a main dish for a buffet.
Celebration Salmon Salad is a grand main course salad that's worthy of brunch with friends and any celebratory occasions!
Ingredients:
500g / 1 lb hot smoked salmon , store bought, any flavor
1 small red onion , halved then finely sliced
1 cup (250 ml) apple cider vinegar (enough to just cover onion), sub white wine vinegar
1 tsp salt
2 tsp white sugar
2 cups Greek yoghurt , full fat recommended
3 tbsp extra virgin olive oil
1 garlic clove , minced
1/4 cup fresh chives, finely chopped
1/4 cup fresh dill, finely chopped
1/2 tsp onion powder, garlic powder, salt, black pepper
1 1/2 tsp white sugar
3 tbsp lemon juice
4 cups (packed) kale , torn into bite size pieces
2 tsp extra virgin olive oil
Pinch of salt
2 pieces fruit - nectarines, peaches, grapefruit or blood oranges (get whatever's ripe and juicy, or sub normal oranges)
10 cups cos lettuce / romaine torn or cut into bite size pieces
1 small fennel , shaved (0.5 mm / 1/5" thickness) or finely sliced
1 handful snow pea sprouts (can omit)
3/4 cup (75g) parmesan , shredded